Creamy cinnamon cheesecake in cupcake form with a snickerdoodle cookie crust will disappear very quickly at your next get-together.
What do you do with leftover cookies? I know, you're probably thinking "leftover cookies?!" but last week when I posted about my
Snickerdoodle Cookie Bars
, my first batch didn't turn out as planned. I first started out with a 13×9 pan, but the pan was too big, resulting in super thin bars. Without wanting to throw that batch away, I thought about making a cookie crust. I've used Oreos and gingersnap cookies for a crust; why not snickerdoodles? Ok so what dessert uses a crust? Cheesecake! And that's how these Snickerdoodle Cheesecake Cupcakes were born. Individual cheesecakes to share with everyone (or to stash away extras for later).
Just when you think I've made
every version of cheesecake out there
, I've never made cheesecake in cupcake form before. It's quite brilliant, actually. Now that it's October, there are plenty of friends and family gathering around food, whether it's for tailgating parties, school activities, or even holiday parties as we head into November and December. Cheesecake cupcakes are a great way to serve cheesecake to a large crowd without having to slice a whole cheesecake.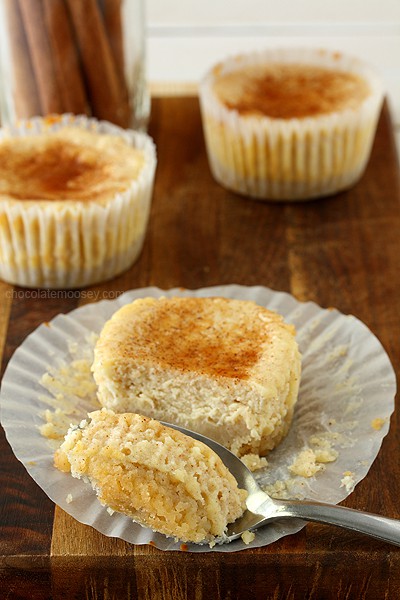 Even if you have no intention of making these for a large crowd, they are great to make at home too. People have told me they don't like to make a big cheesecake because they don't want the top to crack. These cupcakes won't crack plus there is no water bath involved. If you can make cupcake batter, you can make these cheesecake cupcakes. The hardest part is deciding how to eat one. Pick it up like a cupcake or be elegant and use a spoon. Either way, you're not going to be able to resist.
Ingredients
2 cups snickerdoodle cookie crumbs (can substitute graham cracker crumbs)
2 tablespoons unsalted butter, melted
16 ounces cream cheese, softened
3/4 cup granulated sugar
2 eggs
1 teaspoon vanilla extract
1/4 cup sour cream
1/4 cup heavy whipping cream
1 1/2 tablespoons all purpose flour
1 teaspoon ground cinnamon
1 teaspoon granulated sugar + 1/4 teaspoon ground cinnamon mixed together
Instructions
Preheat oven to 350F and line two cupcake pans with 18 paper liners.
In a medium bowl, mix together the cookie crumbs and melted butter. Divide among the 18 liners and press down to form an even layer on the bottom.
In a large mixing bowl, beat together the cream cheese and sugar until smooth and creamy, about 2-3 minutes. Beat in the eggs, one at a time, until smooth. Beat in the vanilla, sour cream, and heavy cream until smooth. Beat in the flour and cinnamon.
Scoop the batter into each paper liner, filling close to the top (they won't rise very much). Sprinkle cinnamon sugar on top of each one. Bake for 18-20 minutes or until done with the centers still slightly jiggly (do not overbake). Cool in the pan for 1 hour (if you try to remove them, the liners may not stick). Cover with plastic wrap and refrigerate for at least 2 hours or overnight before serving.
7.6.3
3198
https://www.chocolatemoosey.com/2013/10/09/snickerdoodle-cheesecake-cupcakes/
Source: Adapted from
Cooking Classy
—-
If you liked these Snickerdoodle Cheesecake Cupcakes, you may also like these recipes:
From me: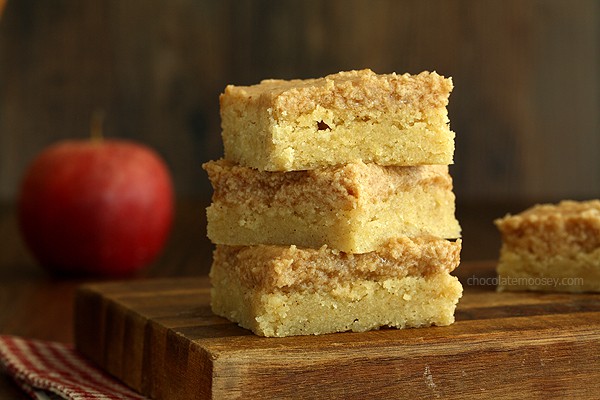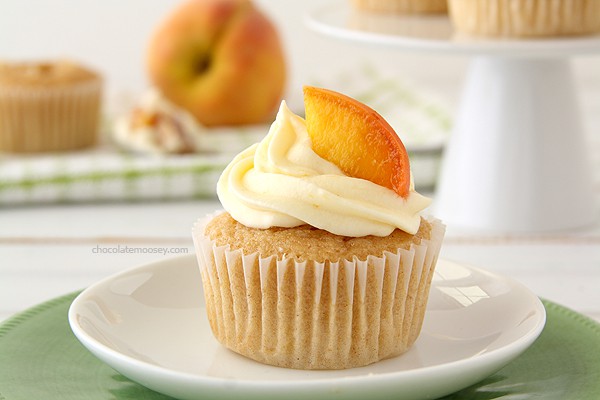 From other bloggers: