Chewy chocolate chip cookies stuffed with gooey caramel in the middle make for a sweet (and messy) treat.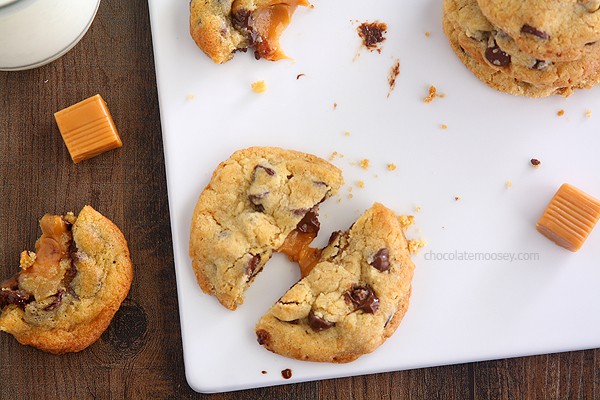 Sometimes I have trouble picking favorites. What is your favorite dessert? What is your favorite ice cream flavor? What is your favorite blog recipe? And then there are questions where I don't hesitate. What is your favorite drink? (Coffee!) What is your favorite color (Teal!) And the question that leads me into today's recipe – What is your favorite cookie? Chocolate chip cookies! I had the idea of stuffing them with caramel after seeing
Bakeaholic Mama's oatmeal cookie recipe
. And little did I know, I would be spending quite some time experimenting with them.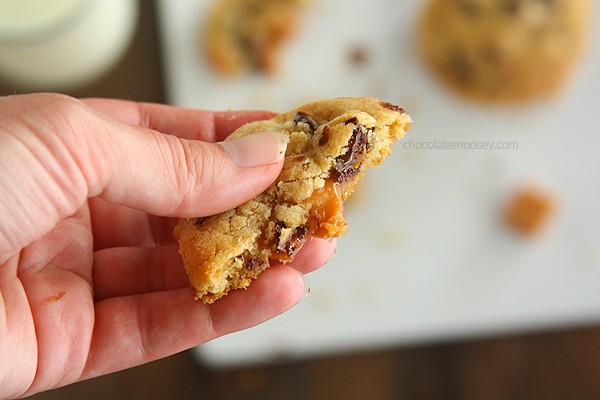 I made these cookies five ways:
With butter-flavored shortening and caramel squares – I made these one night and baked them the next day. They took forever to spread when the dough is chilled. I left some dough out at room temperature before baking, and they spread a little bit quicker. The caramel is soft when warm but impossible to eat at room temperature.
With butter and caramel squares – I baked these both chilled and room temperature. The room temperature ones spread too much and caramel oozed out in the bottoms. Chilled spread great. Again, caramel is soft when warm but hard to eat at room temperature.
With butter-flavored shortening and caramel Hershey Kisses – These didn't work as well as I had hoped, mainly because the points of the kisses poked up through the dough after baking, both with chilled and room temperature dough.
With butter and caramel Hershey Kisses – Same result as the ones made with shortening. Kisses poked up after baking, which got me thinking about using a flatter chocolate caramel candy.
With butter and Rolo candies – The dough definitely needs to chill a bit. I rushed mine after chilling in the refrigerator for 30 minutes. They spread thinner than I liked, but the caramel is still soft even after the cookies cooled. I ran out of shortening to do a batch with Rolo candies.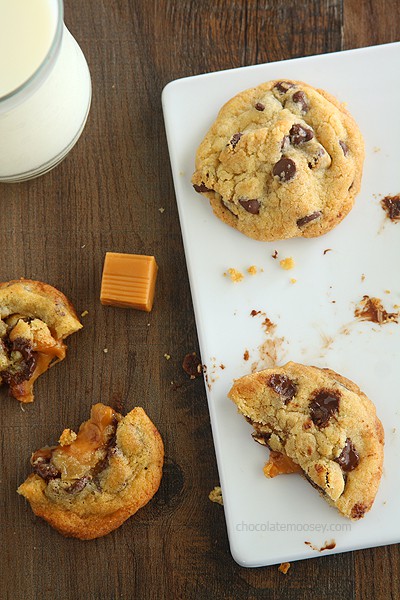 Conclusion: Use butter, chill the dough at least an hour, and use either caramel squares or Rolo candies. However, if you use caramel squares and the cookies cool down completely, you need to microwave the cookie 10-15 seconds before eating. This isn't a big deal if you are consuming them in a household, but if you are serving them for a bunch of people, use Rolo candies that don't require microwaving. I know – cookies shouldn't need a disclaimer, but the caramel squares are pretty amazing if you serve the cookies straight from the oven because there is a big pocket of caramel gooeyness that you don't get when using Rolos. The caramel squares scream CARAMEL where as the Rolos are chocolate with some caramel.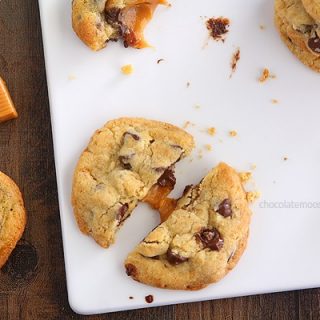 Caramel Stuffed Chocolate Chip Cookies
Ingredients
1 cup all purpose flour
1/2 teaspoon baking soda
1/2 teaspoon salt
1/2 cup (1 stick) unsalted butter, softened
1/3 cup granulated sugar
1/3 cup brown sugar
1/2 teaspoon vanilla extract
1 egg
1 cup semisweet chocolate chips
18 caramel squares or Rolo candies, unwrapped
Instructions
In a medium bowl, whisk together the flour, baking soda, and salt.
In a large mixing bowl, beat together the butter and both sugars until creamy. Beat in the vanilla and egg for 1 minute. Gradually beat in the flour mixture then add the chocolate chips.
Divide the dough into 18 dough balls. With one dough ball, flatten then wrap around a caramel square or Rolo. Make sure each ball is sealed completely. Chill for at least 1 hour.
Preheat the oven to 375F. Divide the cold dough between two cookie trays. Bake for 10-12 minutes or until the cookies are brown and firm around the edges. Let cool for a few minutes before removing to a cooling rack. If the caramel oozed out, let it cool longer until the caramel has cooled down before removing. Serve warm for best results.*
Notes
If you use caramel squares, the cookies must be served warm. Otherwise, the caramel will harden. If that happens, microwave them for 10-15 seconds.

Source: Adapted from Nestle Toll House Recipe
—-
If you liked these Caramel Stuffed Chocolate Chip Cookies, then you may also like these recipes:
From me: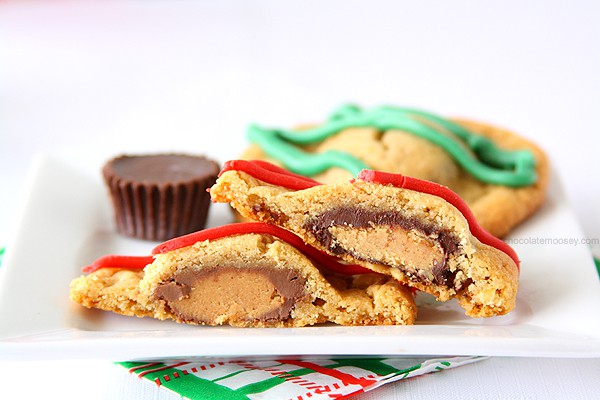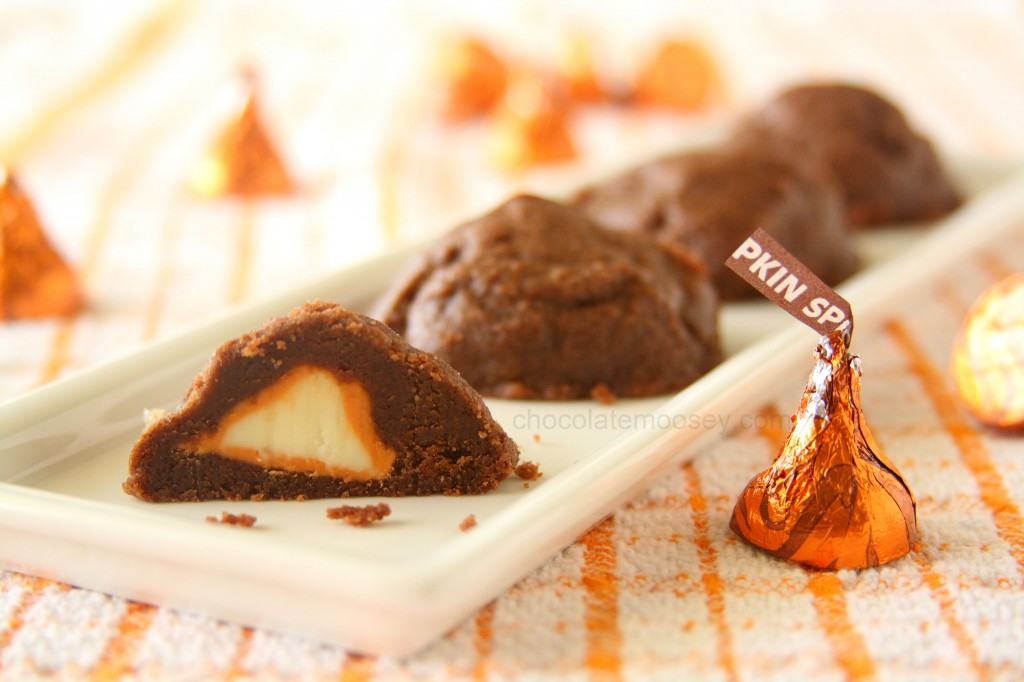 From other bloggers: