Easy peanut butter blondies with Reese's Pieces peanut butter candy and a thin layer of chocolate

Ever make a recipe that seems so simple, yet everyone raves about them and wants the recipe? That's the perfect way to describe these Reese's Pieces Chocolate Peanut Butter Blondies – a layer of peanut butter bars topped with a thin layer of chocolate and Reese's Pieces. They are so easy to throw together, you don't even need to break out the mixer. Grab a whisk, grab the recipe, and soon you will have these delicious blondies to snack on.
I originally made this recipe with Easter M&Ms (and no peanut butter) because I had a bag to use up around the holiday. The coworkers devoured them in no time, so I wanted to make another version. After staring at the bag of Reese's Pieces in the pantry, I thought why not do a peanut butter version? I used Reese's Pieces baking bits in the blondies themselves then topped them with regular-sized Reese's Pieces. You are welcome to stick with one size or mix the two like I did.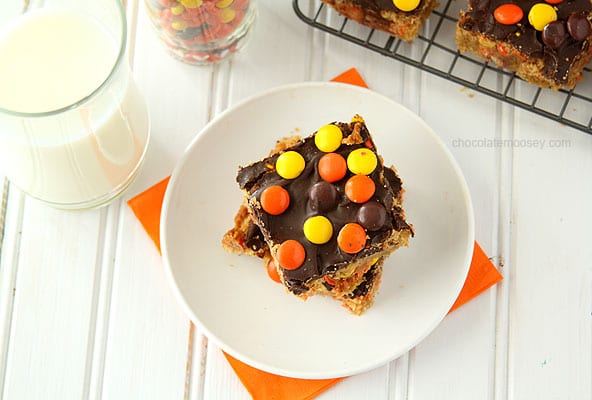 These blondies can easily be made for last minute events and celebrations. You do have to wait for the bars to cool in order to add the melted chocolate, but they are still delicious without that layer. If you know you're not doing the chocolate, I would scrape the batter into the pan then top with the Reese's Pieces and gently push them into the top of the batter. Instant topping.
Reese's Pieces Chocolate Peanut Butter Blondies
Ingredients
1 cup all-purpose flour
1/2 teaspoon baking powder
1/4 teaspoon salt
1/2 cup (4 ounces or 8 tablespoons) unsalted butter, melted
1/3 cup creamy peanut butter
3/4 cup packed brown sugar
1 egg
1 teaspoon vanilla
1 cup Reese's Pieces candy
4 ounces semisweet chocolate, chopped
Instructions
Preheat oven to 350F. Lightly grease or line an 8x8 pan with parchment paper.
In a large bowl, whisk together the flour, baking powder, and salt.
In another large bowl, beat together the melted butter, peanut butter, and brown sugar until smooth. Beat in the egg and vanilla. Gradually beat in the flour mixture. Add 3/4 cup Reese's Pieces.
Scrape the batter into the pan and bake 20-25 minutes or until a toothpick comes out clean when inserted into the middle. Cool completely.
In a large bowl over a pan of simmering water, (do not let the bowl touch the water), melt the chocolate. Spread in a thin layer on top of the blondies. Top with the remaining 1/4 cup Reese's Pieces. Let the chocolate cool and harden before cutting into squares.
Notes
© Chocolate Moosey. All images and content are copyright protected. Please do not use my images without prior permission. If you want to republish a recipe, please rewrite it in your own words or link back to the post for the recipe.
Source: Adapted from
Best Friends For Frosting
More Blondie Recipes

Banana Nut Blondies

Triple Peanut Butter Cookie Dough Blondies