This classy yet easy Carrot Cake Cheesecake combines both moist carrot cake and creamy cheesecake into one irresistible Easter dessert.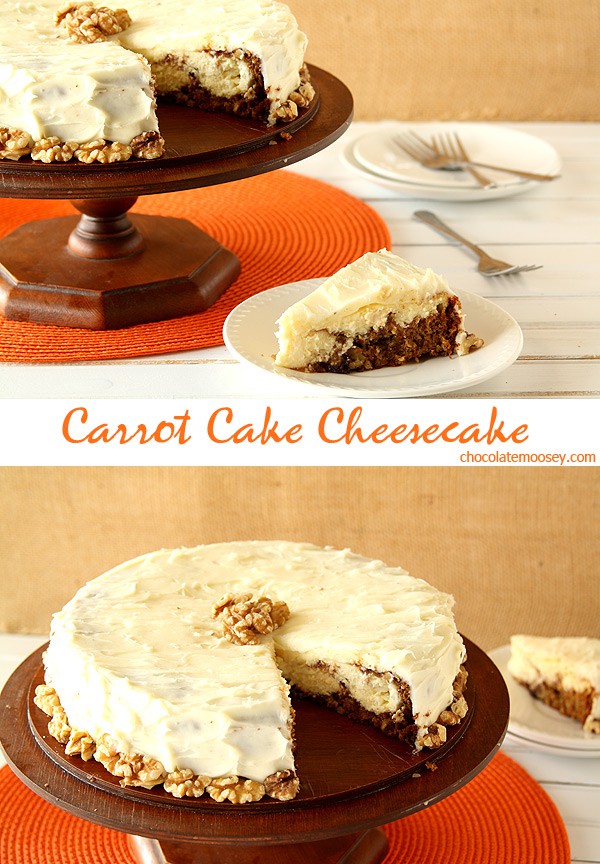 This Carrot Cake Cheesecake is the perfect example of expectation vs. reality – ever hear of the saying? It's where you have what you think will happen then you have what actually happens. It's
pretty popular around the internet
and I think of it all the time when something unexpected happens. Like how my
Mini Layered Guinness Cake
turned out to be three layers instead of two or how this Carrot Cake Cheesecake was supposed to be two layers but became one. I guess that means layers and I don't get along. This Carrot Cake Cheesecake is the dessert I made for our Easter and Passover #SundaySupper, which I have the honor of hosting today.
Update 07/11/13: The cheesecake is an Easter dessert only. I had no intention of classifying it for Passover because it breaks the Passover rules. Our event happened to include both holidays. If you scroll down to the bottom, you can see the holiday menus.
Expectation vs. reality has been the story of my life these past few years. I thought I had it figured out. Go to college for four years, graduate, get a job, and work my way up the career ladder. Going to college was everything I expected. I lived exactly where I wanted to live, never changed majors (I did change from web design to video production but still same degree), and graduated on time. Then all expectations fell apart from there. I spent 13 months looking to start my career while spending 10 of those months at Target. Then I moved to a small country town to a job I thought I wanted with a company I've never heard of. If you told me on graduation day that this would be my life for the next four years, I never would have believed you for a second. Although my expectations vs. reality were way off course, there was calm in the chaos. I figured out who I was (and who I was not). I found both strength and weaknesses I never knew I had. I lost best friends but gained even better ones. And the best part of all – I found myself blogging again and finally, finally, figured out where I belonged in such a lonely, cold world.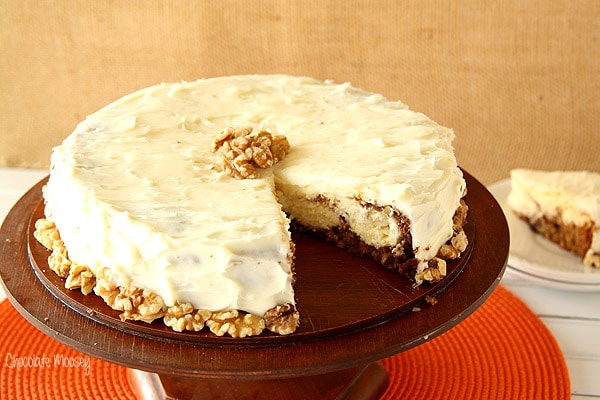 Now I don't have everything figured out. Does anybody ever really? There are days where I'm torn inside, a constant battle between my thoughts and heart, confused as to what I want to do with my life. It's why I turn to baking so much. It's the one thing I know I can do well and know what the outcome will be. But even then there are some expectation vs. reality moments. The idea behind this Carrot Cake Cheesecake was to have one layer of carrot cake topped with one layer of cheesecake, very much like my
Kit Kat Cheesecake Brownies
. However, when I tried to spread the cheesecake layer on top, it all sunk to the bottom. Now I have a cheesecake with a carrot cake crust. Or a cheesecake-stuffed carrot cake. Whatever you call it, it combines the delicious flavors of sweet and nutty carrot cake with creamy and sinful cheesecake.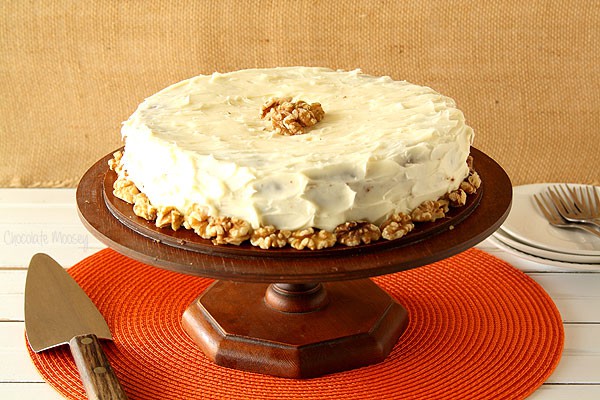 When I did some research on carrot cake recipes, I had some decisions to make. Walnuts or pecans? Pineapples? Coconut? Because I had more walnuts in my pantry than pecans, I added in walnuts with some crushed pineapple and shredded coconut. I was originally going to do a
coconut milk frosting
, but because it doesn't refrigerate too well, I stuck with traditional cream cheese frosting. It was also another attempt at frosting a cake (technically, I frosted this one before my Guinness Cake).
I'll be honest – I don't know much about Passover, so I'm excited to be hosting and learning more about the holiday from my Jewish friends. What I do know is Carrot Cake Cheesecake is the perfect dessert for Easter because Easter involves bunnies and bunnies love carrots. And even if you don't make it for Easter (or even celebrate it), this cheesecake is a great any day dessert to make. It is a great reminder that even though life has expectations vs. reality, we always end up where we are meant to be.
Carrot Cake Cheesecake
Yield: 8-10 servings

Prep Time: 2 hours

Cook Time: 40 minutes

Chill Time: 4 hours

Total Time: 6 hours 40 minutes

This classy yet easy Carrot Cake Cheesecake combines both moist carrot cake and creamy cheesecake into one irresistible Easter dessert.
Ingredients
Cake
2/3 cup all-purpose flour
1 teaspoon baking soda
1/8 teaspoon salt
1 teaspoon ground cinnamon
1 teaspoon ground clove
1 egg, room temperature
2/3 cup granulated sugar
1/4 cup vegetable oil
1/4 cup buttermilk, room temperature
1 teaspoon vanilla
2/3 cup grated carrots
2 tablespoons crushed pineapple, drained
1/3 cup shredded coconut
1/3 cup chopped walnuts
1/3 cup raisins
Cheesecake
16 ounces cream cheese, softened
2/3 cup granulated sugar
2 eggs, room temperature
2 teaspoons pineapple juice
1 teaspoon vanilla
Frosting
4 ounces cream cheese, softened
1/2 cup (4 ounces or 8 tablespoons) unsalted butter, softened
2 1/4 cups powdered sugar
Pinch of salt
1 teaspoon vanilla
Walnut pieces, to garnish
Instructions
Preheat the oven to 350F. Have a 9 inch springform pan ready.
For the cake: In a medium bowl, whisk together the flour, baking soda, salt, cinnamon, and clove.
In a large bowl, beat together the egg, sugar, and oil.
Starting with the flour mixture, alternate between adding the flour and buttermilk, starting and ending with the flour (do not overbeat).
Beat in the vanilla then beat in the carrots, pineapple, coconut, walnuts, and raisins. Pour into the pan and set aside.
For the cheesecake: In a large bowl, beat together the cream cheese and sugar until smooth, about 2-3 minutes. Add the eggs, one at a time, and beat until fluffy and smooth. Beat in the pineapple juice and vanilla.
Drop spoonfuls of filling on top of the cake layer in an even circle in the middle (the filling will sink, so it will be difficult to spread around). Bake 35-40 minutes or until the middle is firm when touched (the middle may still wiggle slightly when the pan is shaken). Let cool completely.
Once cooled to room temperature, slide a knife around the inside rim of the pan to loosen the edges. Remove the ring then chill in the refrigerator for at least 4 hours or overnight.
For the frosting: In a large bowl, beat together the cream cheese and butter until light and fluffy, about 2-3 minutes. Gradually add in the powdered sugar and salt. Beat until smooth and fluffy, another 2-3 minutes. Beat in the vanilla.
Place the cold cake on a stand or plate with strips of parchment or wax paper underneath (you will be pulling these strips out later, so make sure you can easily remove them).
With an offset spatula, frost a thin layer around the cake (you should still be able to see the cake through the frosting). Chill the cake for 30 minutes.
Clean the spatula and finish frosting the rest of the cake. Carefully remove the paper strips then place walnut pieces around the bottom of the cake and a few on top for garnish.
Source: Adapted from Southern Living
More Carrot Cake Recipes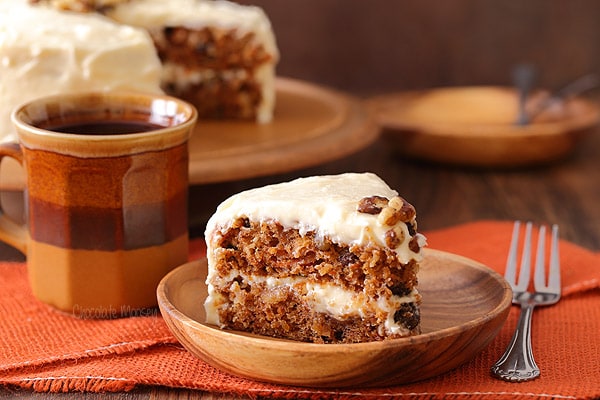 Carrot Cake Layer Cake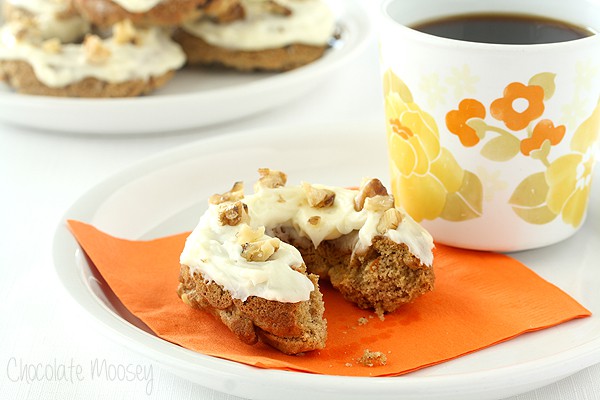 Carrot Cake Baked Doughnuts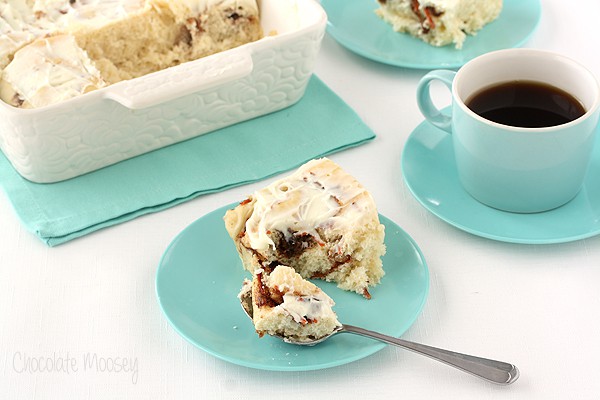 Carrot Cake Cinnamon Rolls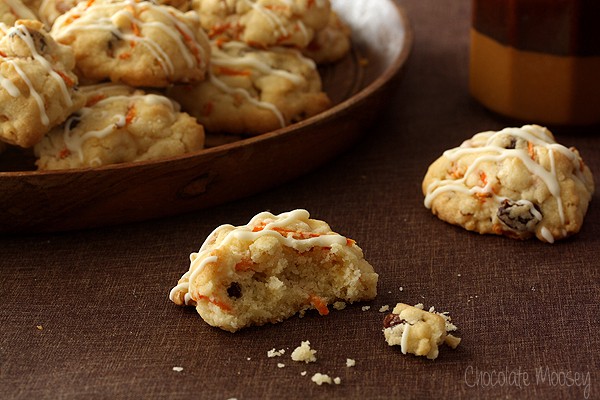 Carrot Cake Drop Cookies