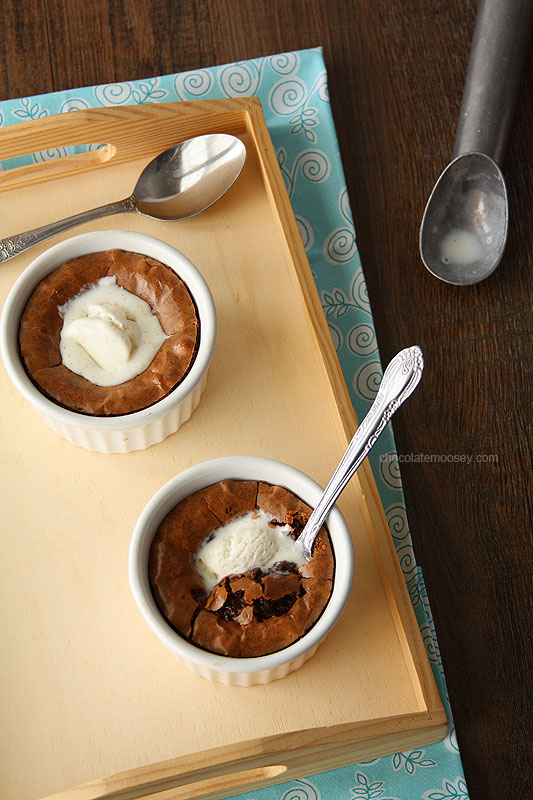 Sometimes I can't think of anything to say, which is why most people perceive me as quiet. I've been struggling to come up with this post for these Deep Dish Hot Fudge Brownie Sundaes. Sure, I could've been mainstream and said this is the perfect dessert to end your Valentine's Day dinner because it's decadent and only makes two. Or I could've boo hooed about how I'm alone for love day and plop myself on the couch eating both of these while watching sappy romantic movies and crying in between bites. But neither are true. I have no date and I'm not going to cry. So here I am back to square one with nothing to say except that these Deep Dish Hot Fudge Brownie Sundaes are so rich and decadent, it's every chocoholic's dream.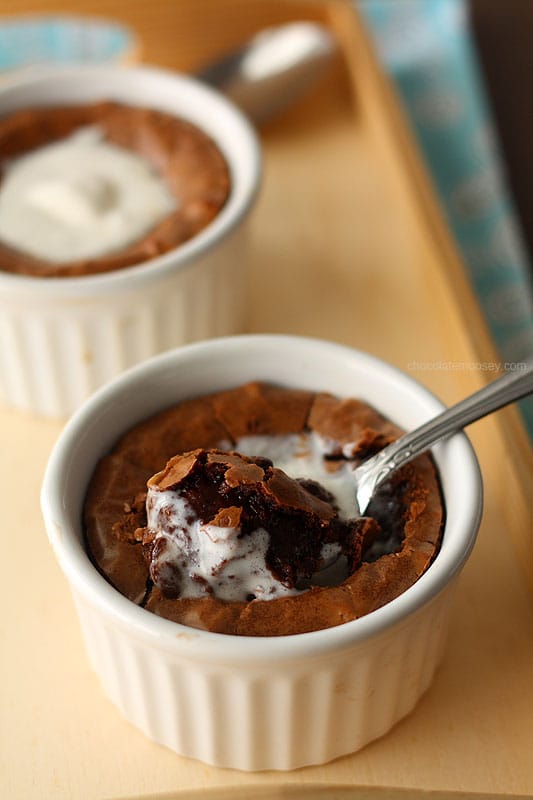 Ying and yang. That's how chocolate and vanilla works. You either love chocolate or you love vanilla. Very rarely do you see someone go crazy over both. But pair them together and you have another story. When something is so sinful and chocolatey, it's begging for vanilla. And when a hot fudgy brownie is fresh from the oven, it's screaming out for cold vanilla ice cream. It's only a crime if you don't.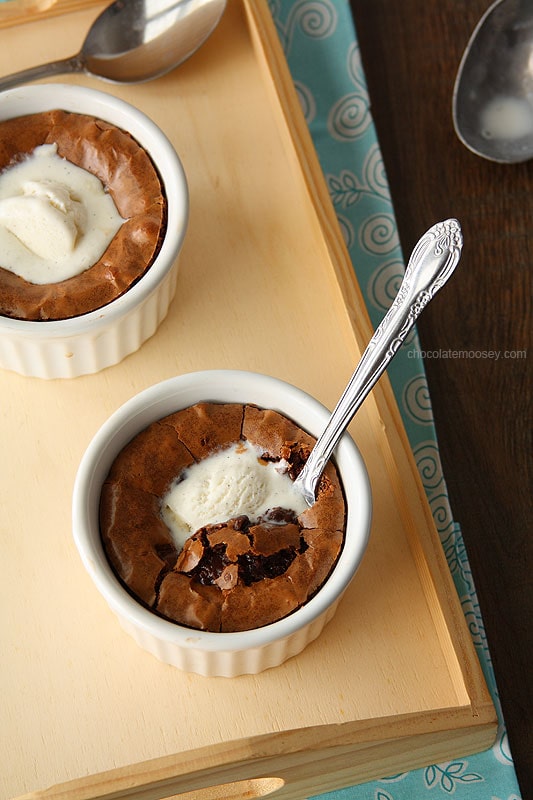 As I said at the beginning, this recipe makes two brownie sundaes. Make it for date night or save the extra one for later. Or if you multiply the recipe, make several batches and have a sundae party. Set out different dessert sauces and toppings. Just don't hold me responsible for the sugar rush.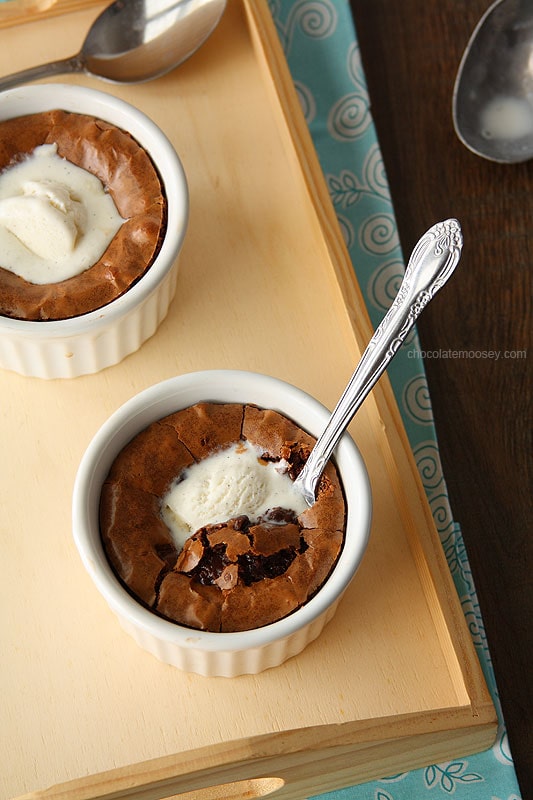 Ingredients
1/4 cup (1/2 stick) unsalted butter
1/2 ounce unsweetened chocolate
1/2 cup + 2 teaspoons semisweet chocolate chips
1 egg
1/3 cup granulated sugar
1/8 teaspoon salt
1/2 teaspoon vanilla extract
1/4 cup flour
Vanilla ice cream, for serving
Instructions
Preheat oven to 350F. Have two 6-ounce ramekins ready.
In a medium heatproof bowl, add the butter, unsweetened chocolate, and 1/2 cup chocolate chips. Place the bowl over a saucepan of barely simmering water (bowl should not touch) and stir until everything is smooth and melted. Remove the bowl from the pan and let cool.
In a medium bowl, whisk together the egg and sugar until thickened and color lightens. Whisk in the melted chocolate then whisk in salt, vanilla, and flour.
Divide the batter evenly between the two ramekins. Place 1 teaspoon chocolate chips into the middle of each brownie; press the chips lightly into the batter. Bake 15-20 minutes or until the tops look dry and crisp. Let cool for 15 minutes then serve with vanilla ice cream.
7.6.3
2991
https://www.chocolatemoosey.com/2013/02/12/deep-dish-hot-fudge-brownie-sundaes-for-two/
Source: Adapted from The Essential Chocolate Chip Cookbook by Elinor Klivans
—-
If you like these Deep Dish Hot Fudge Brownie Sundaes, then you may also like these recipes:
From me:

From other bloggers: