Leftover pie can be dangerous, which is why I made Mini Deep Dish Lemon Meringue Pies for two! It's everything you love about lemon meringue pie but made in mini springform pans.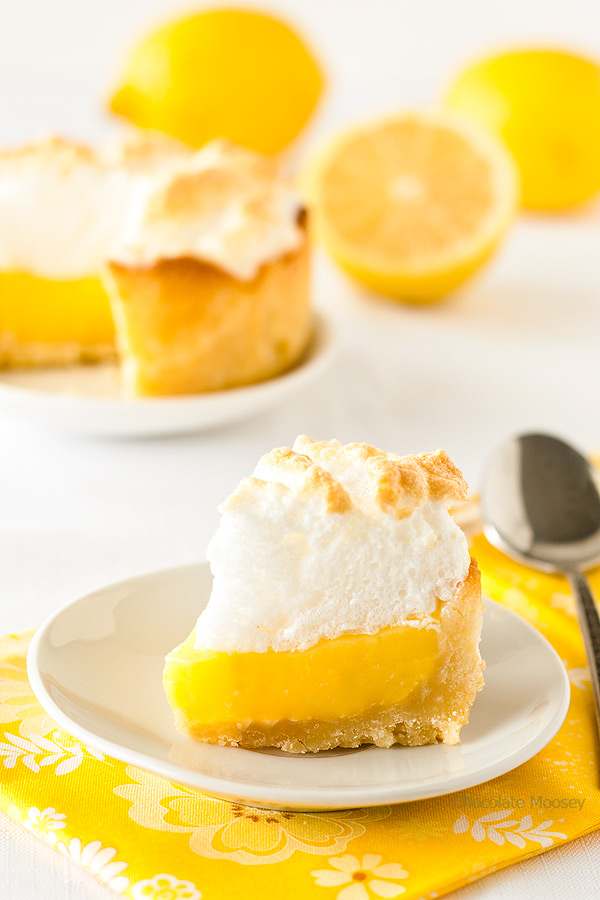 Deep dish pie is something my dad has been trying to do for years. Every time we walk past pie plates, we would look to see if any were deep dish. None were, so we gave up looking. Fast forward to this past December, I was looking at recipes when I saw
Bake or Break's deep dish pecan pie
, which she cleverly used a springform pan for the crust. Oh I have that! I made her pie for New Year's Eve, which lead me to think about making these Mini Deep Dish Lemon Meringue Pies. Mini deep dish pies mean smaller portion sizes, and since the recipe makes two pies, it'd be perfect for date night.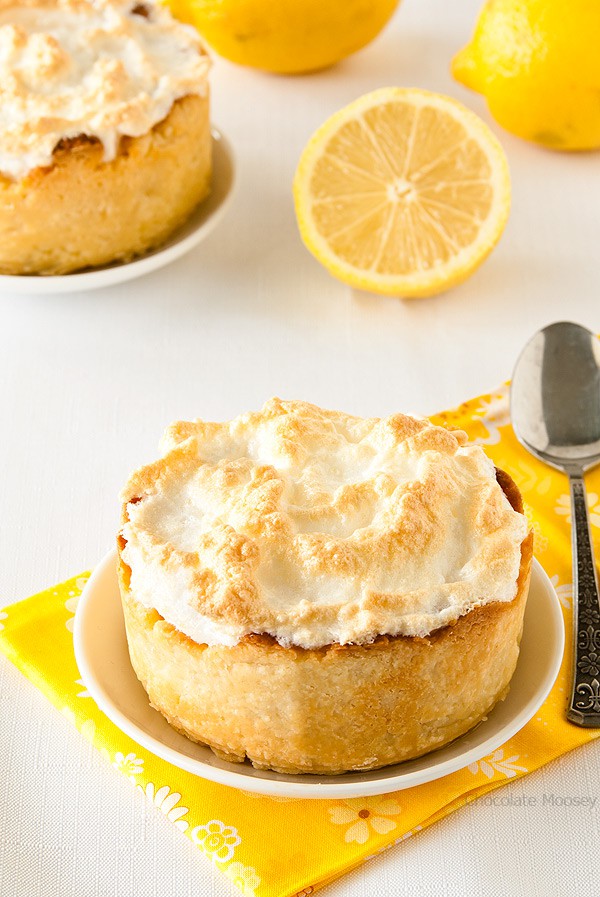 I chose Lemon Meringue Pie because custard pies are my nemesis and because lemon is one of my favorites. I have failed over and over again in having the filling not ooze out everywhere when cut. I figured if I failed with a mini deep dish pie, it wouldn't be as devastating as a regular-sized pie. Fortunately, it all stayed together. Success!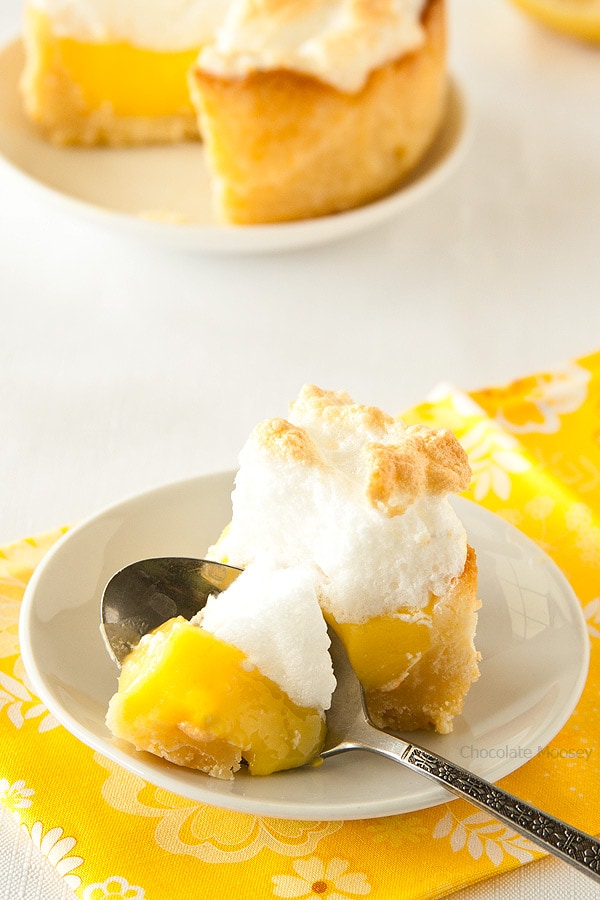 The key to the filling not failing is patience. Make sure the hot filling is thick like pudding. Otherwise, it'll be too thin when you cut it.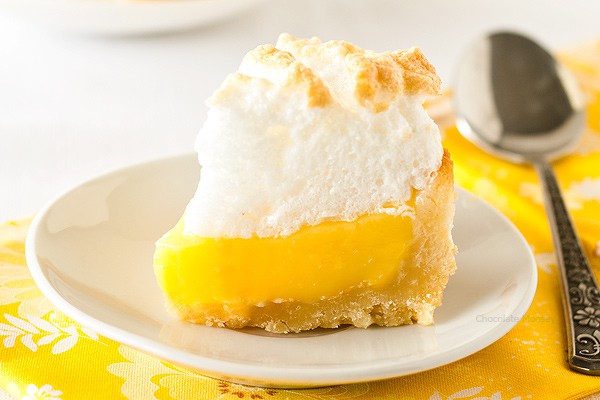 Ideally you want to roll the dough into a circle as one piece, but patching pieces together in the pan works just as well. The cornstarch in the meringue is a little trick I learned from the recipe I used. It helps prevent it from shrinking or weeping.
Items you may need (affiliate links):
Yields 2-4 servings
Mini Deep Dish Lemon Meringue Pies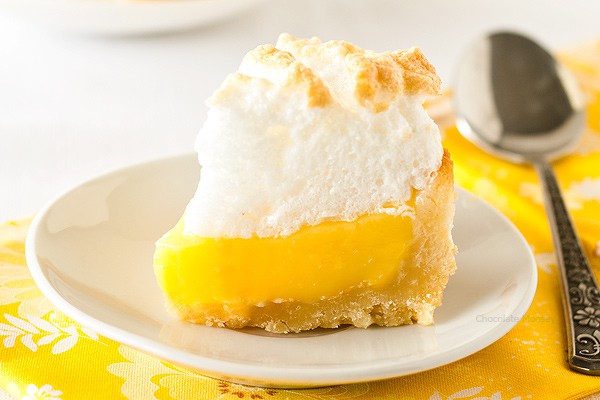 Ingredients
Crust

1 cup all-purpose flour
2 tablespoons granulated sugar
1/8 teaspoon salt
1/2 cup (4 ounces or 8 tablespoons) unsalted butter, cold and cut into 8 pieces
3 ounces full-fat cream cheese, cold and cut into 3 piece
1/4 cup cold water

Lemon Filling

3/4 cup water
1/2 cup granulated sugar
2 tablespoons cornstarch
1 tablespoon lemon zest
1/8 teaspoon salt
3 egg yolks
1/4 cup freshly squeezed lemon juice
2 tablespoons unsalted butter, cut into 2 pieces

Meringue

2 tablespoons granulated sugar
2 tablespoons water
1 teaspoon cornstarch
1 egg white
1/8 teaspoon salt
Instructions
First, make the crust: In the bowl of a food processor, add the flour, sugar, and salt. Add the cold butter and cream cheese pieces and pulse until the mixture looks like large pebbles. Add the water and pulse until a dough forms. Alternately, you can make the dough by hand by cutting the butter and cream cheese into the flour mixture with a pastry blender.
Gather the dough and divide into 2 pieces. Shape into flat disks, cover in plastic wrap, and refrigerate at least 1 hour or until cold.
Preheat oven to 425F degrees. Wrap the outside of two 4-inch springform pans with aluminum foil.
Working with one disk at a time, roll the dough into a circle a little bigger than one pan. Press the dough into the bottom and up the sides of the pan (if the dough breaks, patch into pieces). Prick holes with a fork. Repeat with the remaining dough and pan.
Line each pie crust with foil on top then fill with pie weights or dried beans. Bake for 10 minutes. Remove the foil and weights then bake another 5 minutes or until the bottom is golden brown and no longer looks uncooked. Cool completely.
Next, make the filling:: In a medium saucepan, whisk together the water, sugar, lemon zest, cornstarch, and salt. Bring to a boil, whisking often. Boil for 1-2 minutes or until smooth and almost transparent. Remove from the heat.
In a small bowl, whisk together the egg yolks and lemon juice. Whisk some of the hot sugar mixture into the yolks to temper. Return everything to the saucepan.
Bring to a boil. Boil for 1-3 minutes or until thick. Remove from the heat and whisk in the butter. Fill the cooled pie shells with hot filling.
Make the meringue: Preheat the oven to 350F or have a blow torch ready.
In a small saucepan, whisk together the sugar, water, and cornstarch. Bring to a boil, whisking constantly. Boil for 1 minute. Remove from the heat.
In a clean mixing bowl, on medium speed beat the egg white until foamy. Increase the speed to high, add the salt, and beat until soft peaks form (when you pull the beaters straight up, the peaks will form but the tips will fall over). Gradually pour and beat in the sugar mixture. Beat until stiff peaks form (when you pull the beaters straight up, the peaks won't fall over).
Top both pies with the meringue, making sure the pie is completely sealed (if there are holes in the meringue, there will be a mess). Bake 10-15 minutes or until the meringue is golden brown. Alternately, toast with a blow torch. Cool completely before cutting. Store leftovers in the refrigerator for up to 2 days.
7.6.3
3038
https://www.chocolatemoosey.com/2013/02/05/mini-deep-dish-lemon-meringue-pies/
Adapted from
Luscious Lemon Desserts