Craving pot pie? Chicken Pot Pie Casserole topped with homemade bacon cheddar biscuits is a great dinner alternative to traditional pot pie when you don't want to make a pie crust.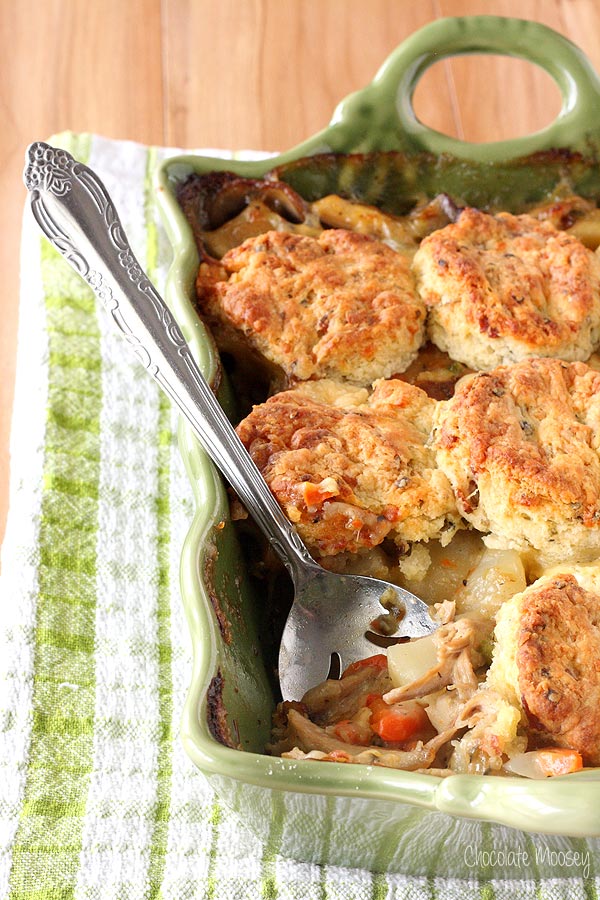 Growing up, I thought I hated pot pie. We would eat those mini frozen pot pies in the famous red box, and although I ate the filling no problem, I always left the crust. Fast forward to last summer when Dad and I visited Philadelphia for the weekend and ate dinner at City Tavern. I had my meal picked out when the server informed us that the special was turkey pot pie with puff pastry. For some reason, that was enough to convince me to get the special.
But I don't like pot pie.
That dinner opened the gates to a pot pie obsession. I lost count how many times I've made pot pie. When my parents ask what do I want for dinner when I visit, often I reply pot pie. This Chicken Pot Pie Casserole With Bacon Cheddar Biscuits is a modern twist on a retro classic.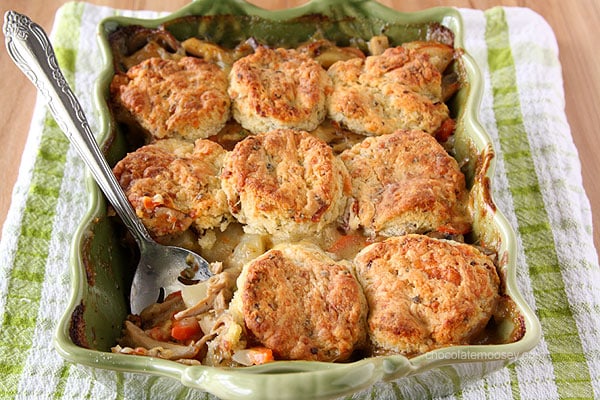 One of the main reasons I never liked pot pie was the crust. I have never been a fan of pie crust and opt for alternatives such as puff pastry. However, when I saw this biscuit-topped version in one of my magazines, I knew I had to try it. The original recipe made a creole-inspired filling, but I kept my traditional filling with chicken, carrots, peas, mushrooms, and potatoes then topped with the bacon cheddar biscuits.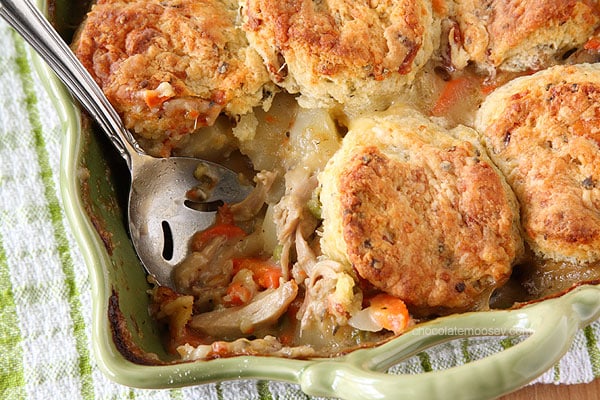 It's easier than you think. The biscuits are a quick mix of flour, butter, cheese, bacon, chives, and cream. No yeast, no rising, no wait time. Just mix, knead, roll, and cut. While the chicken filling is baking for the first 15 minutes, I was able to prepare the biscuits and have them ready when 15 minutes was up. How's that for quick and easy?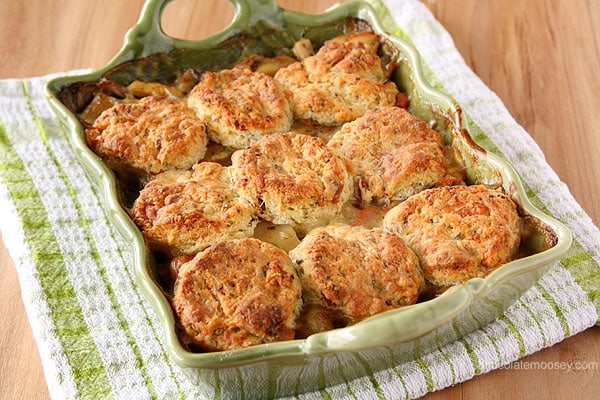 Chicken Pot Pie Casserole is ultimate comfort food. Maybe that's why I crave it so much. You can speed up the cooking process by using already-cooked chicken, whether it's rotisserie chicken shredded up or leftover chicken from the night before. You can even skip peeling and cutting carrots if you use frozen carrots and peas.
Items you may need (affiliate links):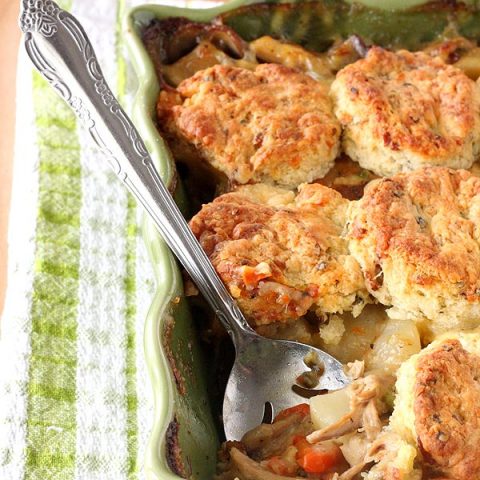 Chicken Pot Pie Casserole With Bacon Cheddar Biscuits
Cook Time:
1 hour
30 minutes
Menu planning tip: You can speed up the cooking process by using already-cooked chicken, either from leftovers or a rotisserie chicken from the store. You can also skip peeling and cutting carrots if you use a frozen medley of carrots and peas.
Ingredients
Pot Pie
2 chicken quarters* (see Note)
1/4 cup (2 ounces or 4 tablespoons) butter (add pinch of salt if unsalted)
1 small onion, peeled and chopped (roughly 1/2 cup)
2 garlic cloves, minced
1/4 cup all-purpose flour
2 carrots, peeled and chopped (roughly 1 cup)
2 cups chicken broth
1 medium potato, peeled and cubed (roughly 1 cup)
1/2 cup frozen peas (can stay frozen)
2 tablespoons heavy whipping cream or milk
Salt and pepper, to taste
Biscuits
1/4 cup (2 ounces or 4 tablespoons) unsalted butter, cold and cut into 8 pieces
1 cup all-purpose flour
1 teaspoon baking powder
1/4 teaspoon salt
1/2 cup shredded cheddar cheese
2 tablespoons bacon, cooked and crumbled
1 tablespoon fresh chives, chopped
1/2 cup heavy whipping cream
Instructions
For the pot pie:
Add chicken to a large pot and add enough water to cover by 1 inch. Bring to a boil then turn down to a simmer and cover. Cook 30-45 minutes or until the chicken is completely cooked through at 165F. Drain the water and let the chicken cool. Once cool enough to handle, shred the meat off of the bones, discarding skin and bones.
Preheat oven to 425F degrees. Have a 2 quart casserole dish or 9x9 pan ready.
In a Dutch oven or large pot, melt the butter. Add the onions, garlic, and carrots and cook until onions and carrots start to soften, about 5 minutes. Add the flour and stir until a roux (paste) forms. Slowly whisk in the chicken broth.
Bring to a boil then add the potatoes and peas. Cook until the potatoes are soft but not mushy, about 10-15 minutes (stir often because the potatoes will stick to the bottom). Stir in the cooked chicken and cream/milk. Season with salt and pepper as needed (I usually add up to 1 teaspoon salt, depending on the broth). Remove from the heat and spoon into the casserole dish. Bake for 15 minutes.
For the biscuits:
While the filling is baking, make the biscuits. In a large bowl, combine the cold butter pieces, flour, baking powder, and salt. Cut with a pastry cutter until the mixture is crumbly and looks like small pebbles. Add the cheese, bacon, chives, and cream, stirring until everything is moistened.
On a lightly floured surface, knead the dough lightly, about 3-4 times. Roll out the dough to 3/4-inch thickness. Using a 2 1/2-inch round cookie cutter or glass, cut out roughly 12 biscuits (you may have to gather up the scraps and roll out again).
When the filling is done baking, remove from the oven and top with the biscuits (if not all biscuits fit, you can put them on a separate cookie sheet). Bake another 25 minutes or until the biscuits are golden brown and filling is bubbly.
Notes
*I prefer chicken quarters, but feel free to use your favorite cut of chicken, including chicken breast. You can also bake or grill the chicken rather than poaching as directed.
Source: Inspired by
My Recipes
More Chicken Recipes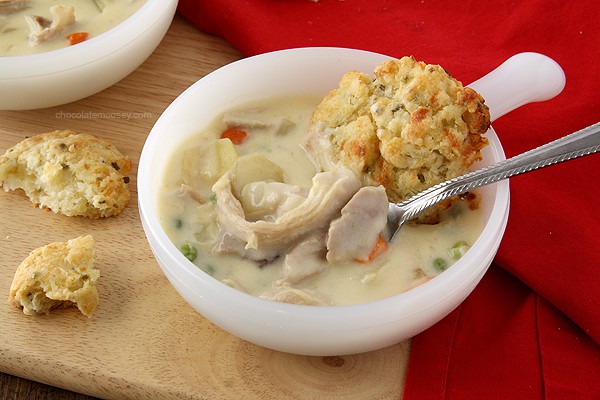 Chicken Pot Pie Soup with Cheddar Biscuits