Start your morning off right with a stack of Spiced Chocolate Chip Pancakes with cinnamon and clove then drowned in a thin homemade caramel syrup. Recipe makes two mini stacks of pancakes to enjoy breakfast for two.

When I stay overnight at my parents, they make me
breakfast
. I rarely eat a nice breakfast during the week, usually a bagel or some oatmeal when I'm at work. The weekends are reserved for an actual sit-down breakfast, which usually consists of hash browns, bacon, and either these Spiced Chocolate Chip Pancakes or chocolate chip waffles. Dad makes fun of me because I tell him to put too many chocolate chips in mine. I even made Homemade Caramel Syrup because chocolate and caramel go together and it's so much better than those fake maple-flavored syrups.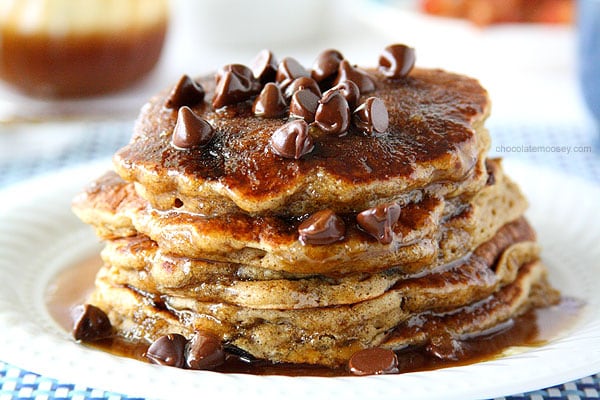 I have to admit if my parents are making the pancakes, they are not spiced. That's just how we ate growing up. If I'm making them, I automatically put in cinnamon and clove, which intensifies the flavor of the chocolate. I never knew spices could make that much of a difference in something so ordinary until I made
Spiced Cookie Dough Ice Cream
over the summer. That's when I got the idea of adding cinnamon and clove to my pancakes. You'll never go back to plain again.

Can I be honest with you? These photos are somewhat of a lie. I don't eat stacked pancakes with butter or syrup. I am perfectly content with three pancakes in a single layer on a plate. If there are enough chocolate chips, I don't need butter or syrup. But that all would make for boring photos, wouldn't it?

Of course, being a food blogger, I had to eat the food as styled, so I ate the stacked pancakes with the butter and syrup. And then I wondered why I don't eat pancakes like this more often. Since the pancakes sat there for a bit, the syrup soaked into the pancakes, which made them even better. I guess there are benefits in not eating right away!
These spiced chocolate chip pancakes have become a family tradition. If I'm with my parents, whether they visit me or I visit them, we end up eating some form of this recipe (with or without spices and/or syrup). That means tomorrow morning (Christmas!) I will be asking for a stack (that I will spread out because I like eating them one at a time).
Yields 6 pancakes
Spiced Chocolate Chip Pancakes with Homemade Caramel Syrup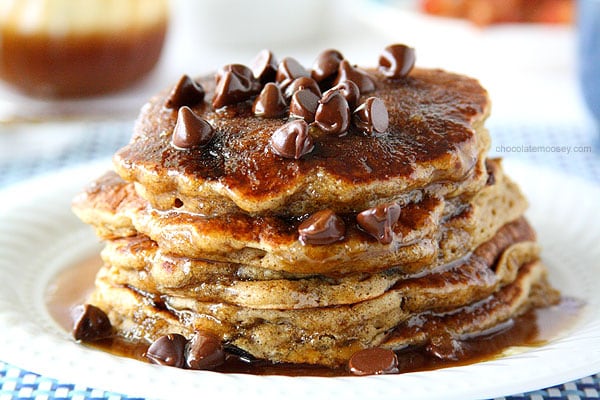 Ingredients
1/2 cup + 2 tablespoons all-purpose flour
1 tablespoon granulated sugar
1 tablespoon baking powder
1/2 teaspoon ground cinnamon
1/2 teaspoon ground clove
1/4 teaspoon salt
1 egg
1/2 cup whole milk
1 tablespoon vegetable oil or melted butter
1/2 cup semisweet chocolate chips

Caramel Syrup

1 tablespoon butter, softened (add pinch of salt if unsalted)
1/4 cup packed brown sugar
1 tablespoon water
Instructions
Preheat the oven to 200F. Place a cooling rack on top of a baking sheet.
In a medium bowl, whisk together the flour, sugar, baking powder, cinnamon, clove, and salt.
In a large measuring cup, whisk together the egg, milk, and oil. Gradually pour into the dry ingredients while whisking until everything is moistened (do not overmix - lumps are ok but there should be no pockets of flour). Whisk in the chocolate chips. Batter should be a little thin.
Heat up a skillet large enough to flip one pancake. When hot, pour in 1/4 cup of the batter. When bubbles form on top and edges are firm, flip and cook the other side until brown. Remove and place on the cooling rack.
Repeat with the remaining batter. When finished, place the baking sheet in the oven for 5 minutes to warm up before serving with caramel syrup (recipe below).
For the syrup: In a medium saucepan melt the butter on medium-low heat. Whisk in the brown sugar until moist and sticky. Add the water and cook until the sugar has dissolved. Bring to a boil and boil for 2 minutes. The syrup will be thin. Remove from the heat and serve with pancakes.
7.8.1.1
3107
https://www.chocolatemoosey.com/2012/12/24/spiced-chocolate-chip-pancakes-with-homemade-caramel-syrup/
Source: Adapted from The Kitchn