Today's #SundaySupper post really hits home. Our mission is bringing families together around the family table, and in wake of the Newtown shooting on Friday, we are encouraging everyone to give your loved ones extra hugs as we remember those lives that were lost. This post was written before Friday, so I apologize if it seems too festive for the occasion.
Ever have one of those evenings where everything you did in the kitchen was a complete failure, regardless of doing it how many times before? That was me the night I made these Chocolate Peanut Butter Hot Chocolate Spoons. I went through probably three bags of chocolate chips because I kept messing up. However, they made it to the table for today's #SundaySupper of Holiday Drinks and Appetizers! They only take five minutes and make a great last-minute gift.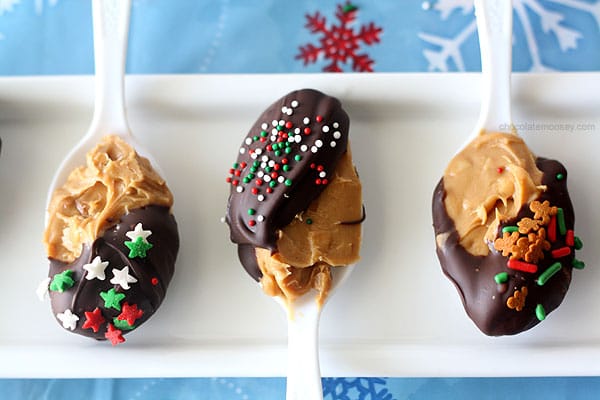 I knew I wanted to do this fun variation of hot chocolate. Hot chocolate was something I gave a lot as gifts when I couldn't afford much. Find a nice mug, throw some hot chocolate mix in it, and instant cheap yet thoughtful gift. Last year, my coworker did something similar except she gave me a hot chocolate spoon, where the spoon was covered in chocolate flavored with raspberry. All you had to do was stir a cup of hot milk, and the chocolate would melt into a decadent winter comfort drink.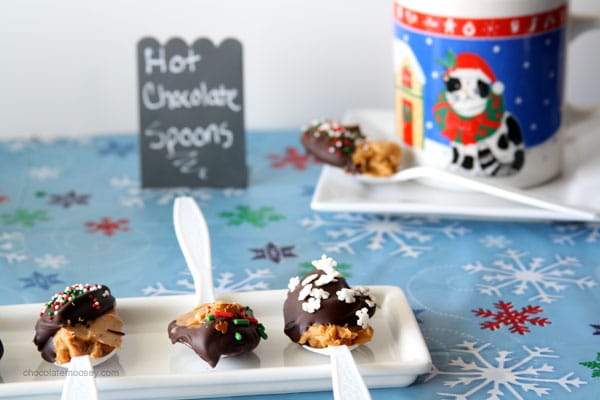 I originally started with the idea of peppermint mocha using peppermint marshmallows and espresso powder. The marshmallows turned the chocolate into a faux mousse. Ok start again, this time using peppermint extract. I'm not sure what happened, but the chocolate seized. Frustrated, I gave up the peppermint mocha idea and melted chocolate chips in the microwave. Then I dipped spoons with a scoop of peanut butter, decorated with sprinkles, and let set in the fridge.
I chose to dip halfway to show off the peanut butter, but you are welcome to dunk the whole thing in chocolate. The quality of your chocolate is especially important since you don't have much else (as opposed to a cake where you have other ingredients to improve the not-so-superior chocolate).
These Chocolate Peanut Butter Hot Chocolate Spoons can be served two ways. You can set up a hot chocolate bar complete with marshmallows and whipped cream where guests can assemble their ideal drink or you can wrap them in treat bags and give away for the holiday. They also make great party favors. And like I said earlier, they only take five minutes to assemble (not including chill time), so you can easily knock out a dozen or two without having to spend too much time in the kitchen.
Chocolate Peanut Butter Hot Chocolate Spoons
Ingredients
3/4 cup high-quality chocolate chips or chopped chocolate
1/4 cup smooth peanut butter
12 plastic spoons
Sprinkles
Instructions
In a large microwave-safe measuring cup or bowl, microwave the chocolate on high for 30 seconds and stir. Continue microwaving in 15 second intervals or until the chocolate melts.
Line a cookie sheet with parchment paper. Place one teaspoon of peanut butter onto each plastic spoon. Dip each spoon into the chocolate, completely covering everything. Place on the cookie sheet and decorate with sprinkles. Repeat with the remaining spoons. Chill until firm. When ready to serve, stir into hot milk.
;
Need more holiday drink and appetizer ideas? Check out what the rest of #SundaySupper made:
Holiday Cocktails
Holiday Appetizers or Hors d'oeuvres
---
Please note – out of respect for those in Connecticut who are suffering from the tragedy that occurred this week, we have suspended the regular twitter chat this week. The posts will be here for you to enjoy, and for future plans.  Hug your loved ones a little tighter, and please continue to keep those impacted in your thoughts and prayers

*Some recipes listed may not have been posted due to bloggers choices in how to respond. I have tried to make sure that the list is edited to reflect the changes, but I apologize if any are missed. The Sunday Supper team lives all over the country in different time zones…and some are even outside the US. I will go through and look for updates throughout the day. Thank you for your understanding.