Free up the oven this Thanksgiving by making rich and creamy No Bake (and egg free) Pumpkin Cheesecake with Praline Sauce poured on top.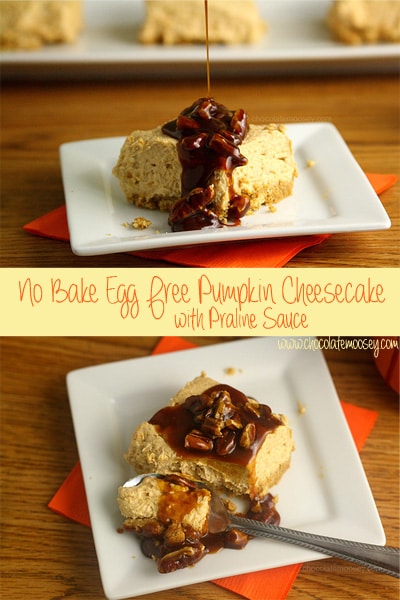 One week from today, thousands of ovens will be cranked on high in full gear, baking succulent turkey and chicken; hearty casseroles and potatoes; fluffy bread and dinner rolls; fattening pie, and other holiday recipes as families gather to share the company of one another (or start fights and dress up the cat). As ovens are shoved full of food, you have no choice but to either a) make food ahead of time or b) make food on the stove top. Personally, I don't like to make food ahead of time because I want it to be fresh. Day old mashed potatoes or turkey, anyone? However, if there's one thing I know about holiday meals, it's that you can make dessert ahead of time. You're not going to see any pumpkin pie from me, but of course I couldn't let the holiday pass without offering some cheesecake. And I designed this recipe especially for Thanksgiving because it's a (hassle-free) No-Bake Egg-Free Pumpkin Cheesecake with Praline Sauce. No need for the oven, just room in the fridge.
This idea came to me while I was driving this past weekend. When I travel to and from my parents, it's roughly 2.5 hour drive one way. Being in the car by myself with the radio turned up loud, I tend to let my mind wander. It's actually a good exercise because your ideas and thoughts aren't forced. I was thinking about the upcoming blog schedule and that I didn't have a post for today. I was originally going to do a Thanksgiving round-up, but it would've been too similar
to my last one
.
Then I started to think about pumpkin cheesecake. No time to do an authentic one. What about a no-bake? Surprisingly I had energy left after the long drive, so I threw it together (which goes to show you this recipe takes little effort).
Something kept bugging me though. Just plain pumpkin cheesecake? Simple is good, I kept telling myself, but my gut said it was missing an element. Pumpkin…pecans…praline sauce? I remember having my first praline down in Savannah, GA. Pralines are just candied pecans (why the fancy name?). However, a lot of the recipes called for evaporated milk. Some used corn syrup. I wanted something with ingredients most people have, so I took my homemade caramel sauce, substituted brown sugar for the white, and stirred in pecans at the end. The entire apartment smelled like caramel (or is it now butterscotch?).
What's great about this recipe is you don't need to worry about the oven. You can even make this Pumpkin Cheesecake on Thanksgiving morning and have it ready for dessert because it needs a minimum of four hours to chill. The Praline Sauce takes only a few minutes, but if you do make it ahead of time, just refrigerate then heat it up before serving.
Some of you may remember this recipe from my
Biscoff Swirl Cheesecake post
. I took that same recipe, used graham crackers instead of cookies, and used pumpkin with some spices instead of the Biscoff spread. The result is a very rich and creamy cheesecake. Several people who don't like baked cheesecake fell in love with this no-bake version because the texture is very smooth and moist. Top it with some sweet Praline Sauce, and you won't miss the pumpkin pie.
No Bake Egg Free Pumpkin Cheesecake with Praline Sauce
Ingredients
Cheesecake
1 1/2 cups graham cracker crumbs
4 Tbsp butter, melted
1/2 cup heavy whipping cream
2 tsp powdered sugar
1/2 cup sugar
16 ounces cream cheese, softened
1 tsp vanilla
1 cup pumpkin puree
1 tsp ground cinnamon
1/2 tsp ground nutmeg
1/2 tsp ground ginger
1/4 tsp ground allspice
Praline Sauce
1/2 cup brown sugar
3 Tbsp butter, cut into tablespoons
1/4 cup heavy whipping cream
Few drops of vanilla extract
Pinch of salt
1/2 cup pecans, chopped
Instructions
Mix together the graham cracker crumbs and butter. Press into the bottom of a 9×9 pan. Refrigerate while you prepare the batter.
In a medium bowl, beat the cream until it thickens. Slowly add the powdered sugar then beat until stiff peaks form (pull beaters straight up and the peaks should not fall). Set aside.
In a large bowl, beat together the sugar, cream cheese, and vanilla. Beat until smooth then beat in the pumpkin, cinnamon, nutmeg, ginger, and allspice until smooth. Fold in the whipped cream. Spread evenly into the prepared pan. Refrigerate for at least 4 hours before serving.
For the sauce: Place brown sugar in a deep saucepan and heat over medium heat. As the sugar melts, start whisking. As soon as all of the sugar is melted, carefully add the butter and whisk until melted. Remove from the heat and slowly add the cream. Once it settles down, whisk until smooth then whisk in the vanilla and salt. Stir in pecans. Serve over cheesecake.
Source: Adapted from
Kraft
—-
If you liked this No Bake Egg Free Pumpkin Cheesecake with Praline Sauce, you may also like these recipes from me: