Homemade apple filling that tastes just liked canned filling but without the preservatives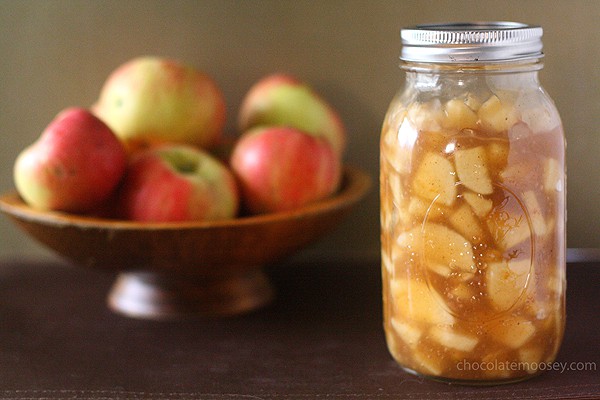 For the past few years, the local farm I always visit back near Pittsburgh has pick-your-own-apples. Usually when I'm visiting Labor Day weekend, Dad and I find time to go. That's when you know fall has begun. Thoughts of fresh apple pie, applesauce, and apple butter fill my head as we picked the two varieties they had ready – honeycrisp and gala. The first thing I made with the honeycrisp apples is Homemade Apple Pie Filling, very similar to the
cherry pie filling
I made this summer. It's just like those canned pie fillings you buy at the store except fresher and without the extra preservatives.
I chose honeycrisp apples over the gala because they were sweeter, but you can use almost any apple variety. There are certain apples, such as fuji or granny smith, that are preferred more as baking apples than others, such as red or golden delicious. You can also use a variety of apples in the filling.
Unlike the cherry pie filling, the apples in this filling are crunchy. You probably don't want to eat it straight from the pan (although you could if you wanted that crisp, raw texture). You'll have to bake the filling to soften the apples. Since its ideal purpose is pie, it isn't a problem. Just fill a 9-inch pie crust with this filling and bake.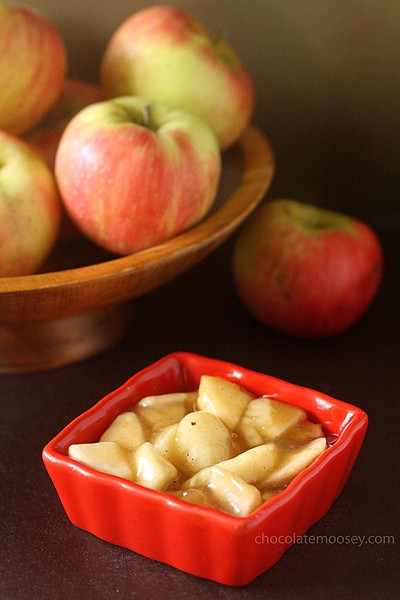 If you want a little snack, place some filling into a ramekin and bake until bubbly and the apples are soft, 10-15 minutes. Top with a little scoop of vanilla ice cream, if you'd like. From making homemade pie fillings several times, I learned that the mixture separates when refrigerated for awhile. If that happens, dump the filling into a saucepan, heat until just boiling, then stir until everything is smooth again.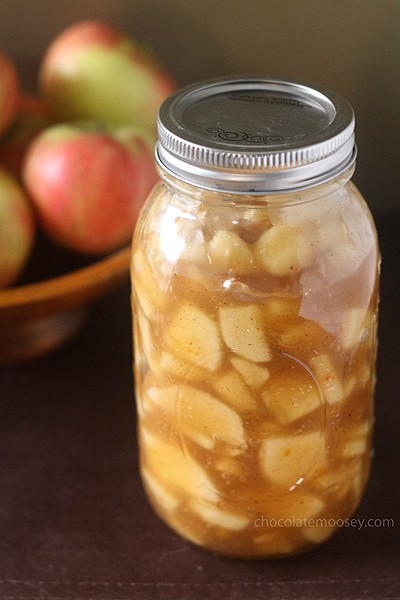 Updated 10/6/2013:
Since I've posted this pie filling recipe, there have been questions about canning it. Because of the cornstarch, it is not recommended to can this recipe. Some readers have suggested using Clear Jel starch, but I am not familiar with that product. You can, however, freeze this filling for longer storage.
Homemade Apple Pie Filling
Use this filling instead of canned. Please note - due to the cornstarch, it is not recommended to can this recipe.
Ingredients
1 cup water
1 Tbsp apple juice, apple cider, or lemon juice
1 cup sugar
1/4 tsp ground cinnamon
1/4 tsp ground nutmeg
1/4 tsp ground clove
1/4 cup cornstarch
1/4 tsp vanilla
3 cups apples, cored, peeled, and chopped
Instructions
In a large saucepan, combine water, juice, sugar, cinnamon, nutmeg, clove, and cornstarch. Stir over medium heat until thickened and bubbly. Cook for 2 minutes, constantly stirring. Remove from heat and stir in vanilla and apples. Cool to room temperature then use right away or store in the refrigerator*.
Notes
*If you do store the filling in the refrigerator, it may separate. Reheat everything back up in a saucepan until combined and thickened again.
If you liked this Homemade Apple Pie Filling recipe, you may also like these recipes from me: