Moist and tender small batch Lemon Butter Mum Cupcakes are decorated with marshmallows to look like flowers. Makes only 6 cupcakes and is ideal for Mother's Day, bridal showers, and other spring celebrations.
Happy Mother's Day to those who are considered moms in someone's life! I tried to get
Murray
to bring me breakfast, but he ate the bacon. Every year, I make my mom dinner and dessert rather than wasting time and money at a restaurant. Later today I will be making
Pork Wonton Soup
and
Devil's Food Layer Cake
. However, on Friday I brought home these Lemon Buttermilk Mum Cupcakes, which were filled with a lemon marshmallow fluff topped with cream cheese frosting and mini marshmallows dipped in sprinkles to look like flowers.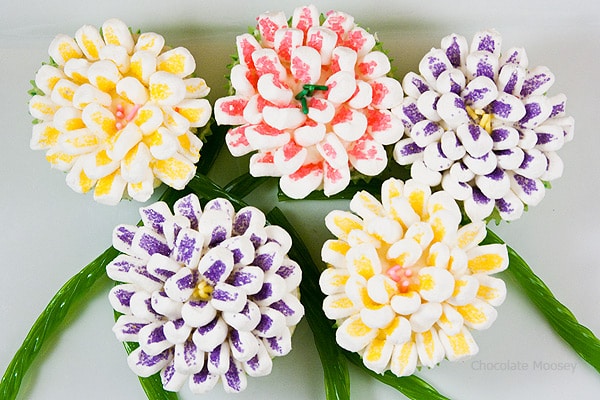 I got the idea a cupcake decoration book. Mums would be perfect for Mother's Day and didn't look too complicated. I will admit they are a bit time consuming: cutting all of those mini marshmallows in half, dipping in sprinkles, then attaching to the cupcake. However, they are worth it because they're so pretty.
Because they are flowers, I wanted a light-colored cake. I even did green cupcake liners for the base. Since I had a pile of lemons and a carton of buttermilk in the fridge, I knew my answer. Since these are special occasion cupcakes, I wanted to do a filling of lemon marshmallow fluff.
I made cream cheese frosting to "glue" the marshmallows on top. However, if you don't want to make the flowers, you can pipe on the frosting and decorate with sprinkles as normal. But I bet if you took the extra time to make Mom a bouquet of flowers, it'll be a Mother's Day for her to remember.
Don't limit these to only Mother's Day! Make them for someone's birthday, bridal shower, or even a baby shower.
Lemon Buttermilk Mum Cupcakes
Ingredients
Cupcakes:
1/2 cup all-purpose flour
1/4 tsp baking powder
1/8 tsp baking soda
Pinch salt
1/4 cup + 2 Tbsp sugar
2 Tbsp butter, softened
1 egg white
1 tsp grated lemon zest
1/4 tsp lemon extract (you can sub vanilla)
2 1/2 Tbsp buttermilk
2 Tbsp lemon juice
Filling:
6 Tbsp marshmallow fluff
Frosting:
2 oz cream cheese, softened
2 Tbsp butter, softened
Pinch of salt
1 cup powdered sugar
Garnish:
Mini marshmallows
Colored sugar sprinkles
Colored jimmie sprinkles
Instructions
Preheat oven to 350F. Line a cupcake pan with 6 paper liners.
In a small bowl, whisk together the flour, baking powder, baking soda and salt.
In a large bowl, beat the sugar and butter until creamy. Beat in the egg white. Beat in lemon zest and extract. Alternately beat in the flour mixture and buttermilk, starting and ending with the flour, until smooth. Beat in lemon juice. Scoop batter into pan and bake 20 minutes or until a toothpick inserted in the middle comes out clean. Cool in the pan on a rack for 10 minutes, then remove from the pan and cool completely.
For the frosting: in a medium bowl, beat together the cream cheese, butter, and salt until creamy. Slowly beat in the powdered sugar. Beat a few more minutes until light and fluffy.
To assemble: cut a hole out of each cooled cupcake. Fill with marshmallow fluff (roughly a tablespoon each). Cover the hole with some of the removed cake.
Working with one cupcake at a time, frost the top with the cream cheese frosting. Then cut one marshmallow in half, dip the sticky side in sugar sprinkles, and gently press into the frosting. Repeat, arranging the marshmallows in a circular pattern. Create a circle on the outside then create another circle just inside it, and another just inside it, etc. until you reach the middle. Put four colored jimmies in the middle to represent the stamen.
Repeat step 6 with each cupcake. Refrigerate until ready to serve.
Source: Adapted from 125 Best Cupcake Recipes by Julie Hasson