This hearty Guinness Beef Stew made with beer is the perfect cure for the winter blues.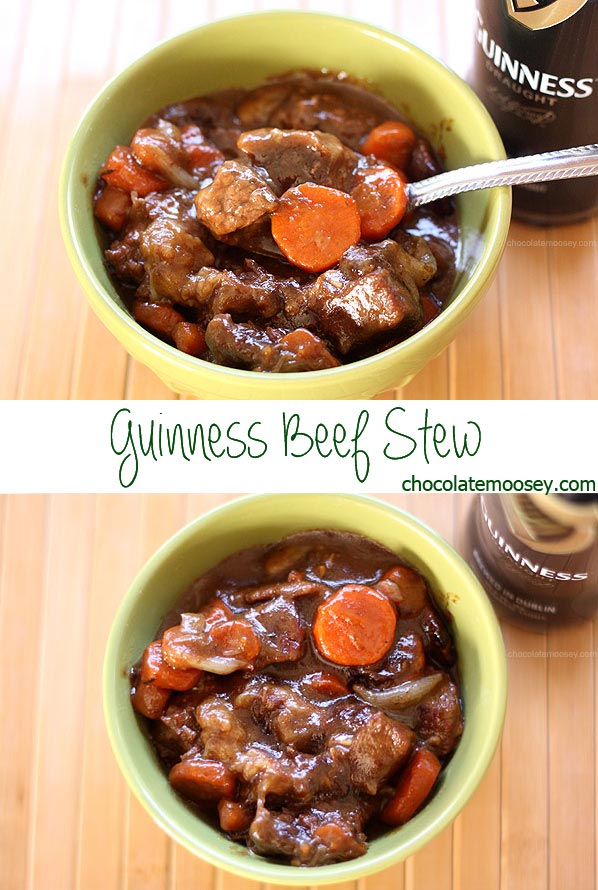 It's been pretty gloomy here the past week or so in PA. As much as I love listening to the rain, I want my sunshine back.
Of course the best way to help cheer any person up is some nice, hearty comfort food. I've been dying to try this Guinness Beef Stew since March, but because it takes a few hours to cook, I can only make it on the weekend.
Most of the cooking time is letting it sit in the oven, so it's great to make while you are doing housework.
Don't want to turn on your oven? Learn how to make Stovetop Beef Stew For Two!

To make this Guinness Beef Stew, you cut up a roast into cubes. This recipe is perfect to cook those tougher cuts of meat because you are really making them tender.
The smallest roast the butcher had was 1.5 pounds, which is a lot for one girl! Of course I could have asked for a smaller piece, but I decided on eating the leftovers for lunch at work. I never seem to pack enough good food for lunch.
There is a little bit of work in the beginning with browning the meat, so it's not quite set it and forget it. Once you get past that part, then you can let it cook while you are off doing other things. Just don't forget to set a timer!
Want to make beef stew even faster? Check out my Instant Pot Beef Stew For Two recipe to make it in almost half the time!
Along with the beef, I added carrots and pearl onions. Normally, I'd add mushrooms and potatoes, but I didn't have either of those.
To make peeling pearl onions easier, boil them for 5 minutes, drain, and quickly rinse under cold water (dunking them into an ice bath is ideal, but I'm lazy). After they are cool enough to handle, pop them out of their skins. I could seriously eat pearl onions just like that, plain and oh so slightly cooked.
If you don't have any, of course you can chop up a regular onion. The pearl onions melt down anyway, so you really can't tell. I was cleaning out my produce drawer and that's what I had.
Guinness Beef Stew
Yield: 4

Prep Time: 30 minutes

Cook Time: 2 hours

Total Time: 2 hours 30 minutes

This recipe takes 2 hours to cook, but most of it is hands-off. That means you can pop it into the oven then do other things while it cooks. [i]Recipe updated 3-11-15: Potatoes were added to the ingredient list.[/i]
Ingredients
1 pound braising beef such as chuck roast, cut into 1-inch cubes
2 tablespoons all-purpose flour
1/2 teaspoon salt
2 tablespoons vegetable oil
1 small onion, chopped
2 large carrots, peeled and cut into coins
1 large potato, peeled and cubed
1 cup stout beer, such as Guinness
2 teaspoons brown sugar
1 teaspoon dried thyme
1 bay leaf
Instructions
Preheat oven to 325F. Have a Dutch oven with a lid ready (make sure it is oven safe).
In a large plastic bag or bowl, toss together the beef, flour, and salt.
In a large Dutch oven on the stove, heat 1 tablespoon oil. Add the beef (in batches if your pot isn't large enough) and cook until brown on both sides, roughly 3 minutes per side. Remove from the pot and transfer to a bowl.
Add the remaining 1 tablespoon oil to the pot. Add the onions, carrots, and potatoes. Cook for 3-5 minutes until softened. Return the beef to the pot then add the beer, sugar, thyme, and bay leaf, scraping up the brown bits on the bottom (you want this for flavor). Bring to a boil.
Once boiling, cover and bake for 1 hour 30 minutes - 2 hours or until the meat is soft. Discard the bay leaf before serving.

Source: Adapted from Irish Pub Cooking (Amazon affiliate link)
More Guinness Recipes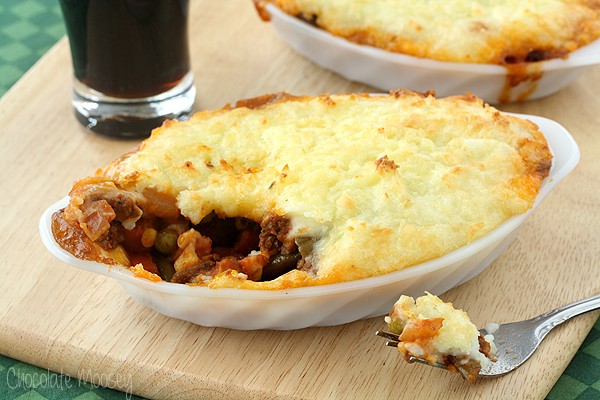 Guinness Shepherd's Pie For Two

Guinness Pulled Pork Sandwiches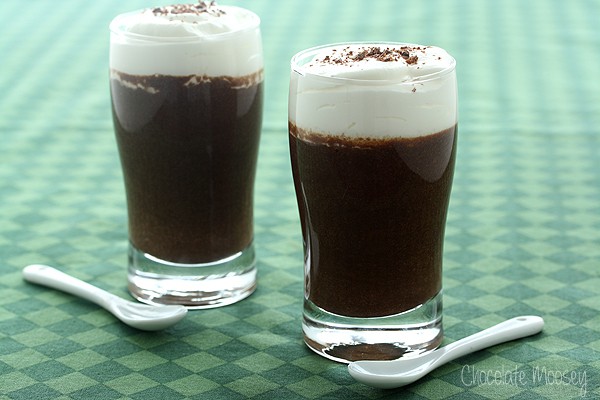 Guinness Mousse Cups For Two

Mini Layered Guinness Cake with Irish Cream Ganache Frosting