Turn your favorite Easter candy into a decadent dessert with this Cadbury Creme Egg Ice Cream recipe! It's homemade vanilla ice cream with chopped Cadbury creme eggs mixed in for the best Cadbury creme egg dessert.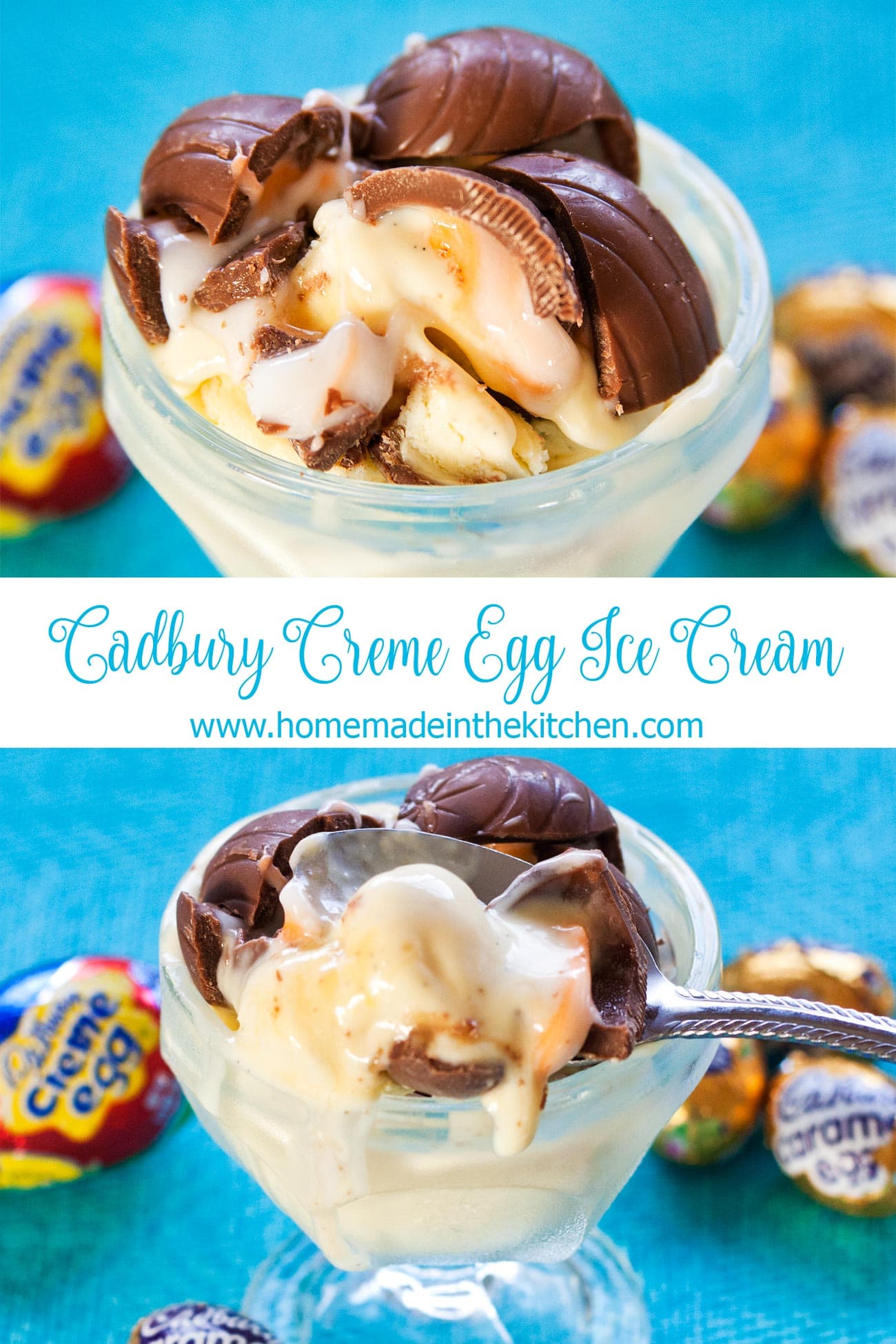 Before you start reading, I need you do me a huge favor.
Don't judge me.
Yes, I have still have Easter candy leftover, including 18 mini creme eggs, 15 regular creme eggs, a bag of regular jelly beans, Peeps, and Jelly Belly beans.
I purposely saved the creme eggs to make this Cadbury Creme Egg Ice Cream recipe. Otherwise, I wouldn't have any left.
(I still have more on the counter, by the way. Good thing I don't have anyone around to steal them).
I had all kinds of creme egg recipes planned in my head, but soon Easter came and went by pretty quickly.
"Well next week I'll make this."
Soon, next week became the last week in April. Man, I better get this Easter candy eaten up. I wonder if I'm the only one in the world who still has creme eggs left?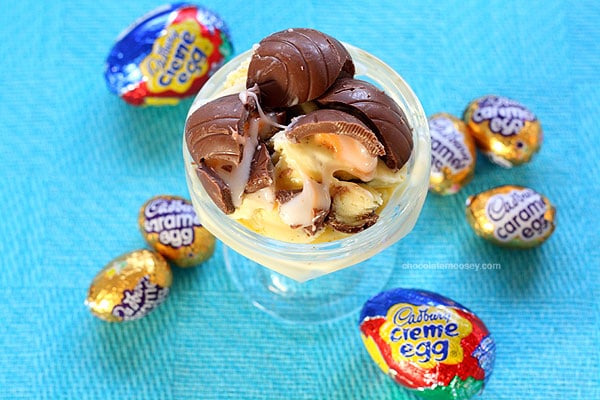 How To Make Cadbury Creme Egg Ice Cream
I published this Cadbury creme egg ice cream recipe years before Cadbury released its own ice cream. This isn't meant to be a copycat since I made it first.
First, I made homemade vanilla ice cream. When I first made it, I made ice cream without an ice cream maker, but now I own an ice cream machine (this one, to be exact (affiliate link).
If you're making ice cream by hand, instead of putting the ice cream base into the machine, you put it in the freezer. Every 30 minutes or so, you whisk it to help break up the ice crystals. When it's almost frozen, you stir in any mix-ins you may have. Otherwise, they would just sink to the bottom.
Of course, if you're like me, you either get distracted or make it right before bed and are not awake to stir it (the ice cream still turns out fine by the way. Not as good as stirring it but still good).
I do highly recommend using an ice cream maker simply because it's frozen after 20 minutes (albeit soft serve). At that point you mix in the chopped creme eggs then freeze for at least 4 hours or until solid enough to scoop.
Looking at the packaging for Cadbury ice cream, it looks like you mix in fondant sauce. Luckily I have directions on how to make
homemade fondant cream
on my milkshake post.
After churning the ice cream to the soft serve stage, layer it with the fondant cream and creme eggs into a freezable container.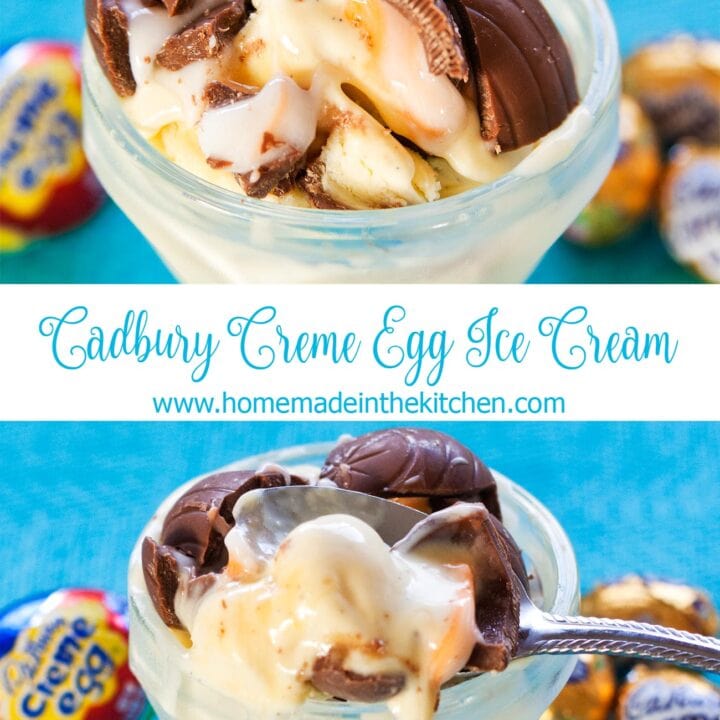 Cadbury Creme Egg Ice Cream
Ingredients
1/2 cup whole milk
1/4 cup + 2 Tbsp sugar
1 cup heavy cream
Pinch of salt
1/2 vanilla bean
3 egg yolks
1/2 tsp vanilla
12 mini Cadbury creme eggs, chopped
Regular Cadbury creme eggs chopped for garnish
Instructions
Warm the milk, sugar, 1/2 cup cream, salt in a medium saucepan. Scrape the vanilla bean into the cream mixture then add the pod itself. Cover and remove from the heat. Let sit for 30 minutes.
In a large bowl sitting in an ice bath, pour in the remaining 1/2 cup cream. Set a mesh strainer on top.
In a small bowl, beat the egg yolks. Slowly whisk in some of the warm mixture then whisk the egg mixture into the milk mixture. Stir the milk mixture constantly over medium heat until thickened. Pour it through the strainer and stir it into the cream. Take the vanilla bean out of the strainer and back into the custard mixture. Add the vanilla extract. Let sit in the ice bath until room temperature.
If you are using an ice cream mixer, follow your machine's instructions. Add the chopped mini eggs during the last few minutes of churning.
If you are freezing it by hand, place the custard in the refrigerator to chill then move it to the freezer. Every 30-45 minutes, bring the mixture out and whisk it. When it is almost frozen, add the mini eggs and stir.
When serving, top with regular Cadbury creme eggs for garnish.
Source: Adapted from The Perfect Scoop (affiliate link)
More Recipes Using Cadbury Creme Eggs
Updated 3/23/18