Get Game Day ready with these sweet and spicy baked Sweet Chili Chicken Wings. They are baked instead of fried, which makes them healthier than most wings for your tailgating party.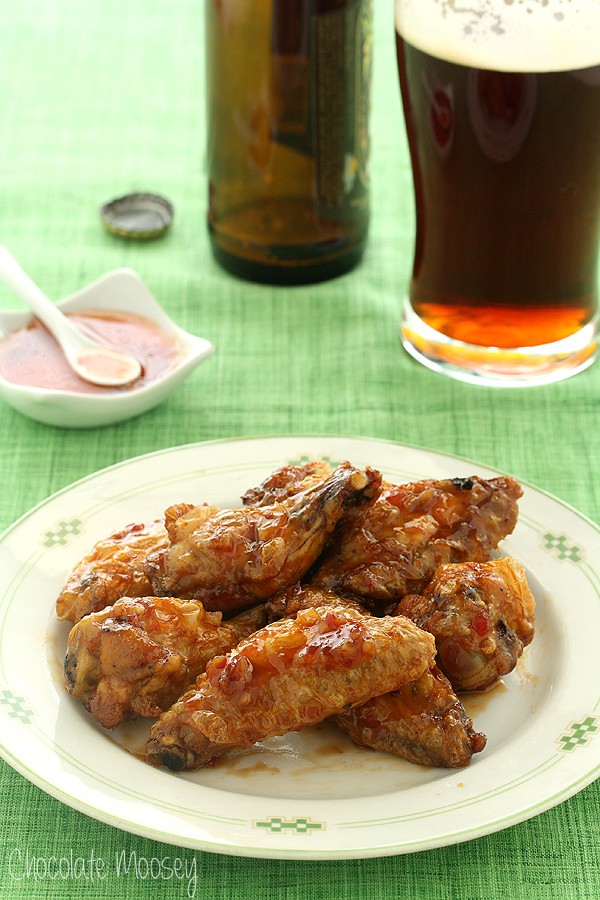 If you're like me, you love to eat out. Of course, I don't do it often because it hurts the wallet, but that doesn't mean I don't crave it. Take chicken wings for example. I love chicken wings. I hate how they are so messy, but I really do love chicken wings. My favorites are either
buffalo chicken wings
or Asian wings, but I wouldn't pass up garlic butter or ranch either (who passes up garlic or ranch anyway?). You have to admit when you go out, the cost adds up, not to mention unhealthy with all of that deep frying. What's a moose to do? All that money. All that oil. Make them at home, duh (like you didn't see that coming). And yes, it IS possible to have crispy wings in the oven. I've made these baked Sweet Chili Wings at least 5 times already. Added bonus is they don't take too much effort either.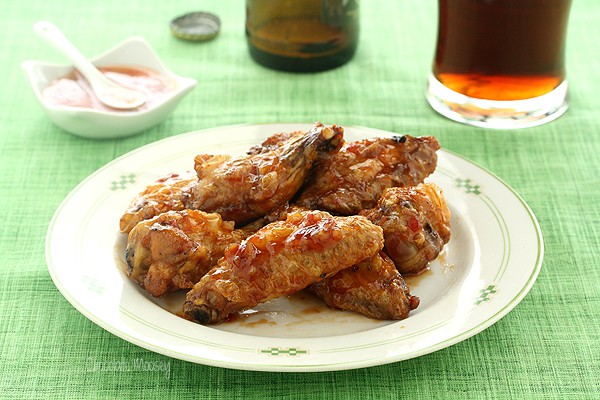 Normally when I make wings, I line a cookie sheet with foil, toss the wings in sauce, then bake for 60 minutes. Although they were still good, they weren't very crispy and stuck to the foil. Then I read Bon Appetit's recipe for Crispy Chicken Wings. Their method is the opposite of mine. You bake the wings for 50 minutes on a baker's rack in a pan so the juices drip down and heat circulates underneath. Then you toss the wings in sauce. If you made the buffalo sauce, you were done. If you made the Asian sauce, you baked them for another 10 minutes to caramelize.
I didn't think this method would make a huge difference, but oh it does. I've never had baked chicken wings so crispy before. Crispy! And baked! And healthy! Ha not really, but they are "healthier" than frying them. Can chicken wings ever be healthy? The original glaze recipe is soy sauce, honey, garlic and ginger. I started out using honey, but when I ran out, I got the brilliant idea to use sweet chili sauce. I loveeee sweet chili sauce, especially in general tso's chicken sauce. Spicy and sweet. If you don't like the heat, feel free to use honey instead.
The only problem I had is I never seem to have enough glaze to toss the wings. Maybe I'm just an extra sauce person, but usually I end up doubling that part. Normally, I dip my wings in ranch, but this glaze is so good, I skip the ranch (!!! – I can already hear certain individuals calling blasphemy ;) )

Baked Sweet Chili Chicken Wings
Total Time:
1 hour
15 minutes
Ingredients
6 wing dings (drumettes and/or flats)*
1 tablespoon vegetable oil
Salt and pepper to season
1/4 cup water
1/4 cup sweet chili sauce (homemade or store bought)
2 tablespoons soy sauce
3 garlic cloves, minced
1/4 tsp ground ginger
Instructions
Preheat oven to 400F. Line the bottom of a roasting pan or cookie sheet with foil. Place a roasting or cooling rack on top.
In a medium bowl, toss together the wings, oil, salt and pepper. Place wings onto rack in the pan and bake 45-50 minutes until cooked through and skin is crispy.
Meanwhile, make the glaze. In a medium saucepan, mix together the water, chili sauce, soy sauce, garlic, and ginger and bring to a boil. Reduce heat to low, stirring occasionally, until reduced to 1/4 cup, about 8 minutes. Let sit for 15 minutes to thicken slightly.
When the wings are finished, toss into the glaze and serve.
Optional: After tossing in the glaze, bake for an additional 8-10 minutes or until the glaze is lightly caramelized.
Notes
*Wing dings are chicken wings that are cut into three sections. If you cut the wings yourself, discard the tips and keep the drumstick and flat parts.
Source: Adapted from
Bon Appetit