Your favorite Cadbury creme egg dessert in milkshake form! Chocolate ice cream and homemade fondant cream blended together for a sinful Cadbury Creme Egg Milkshake, just in time for Easter.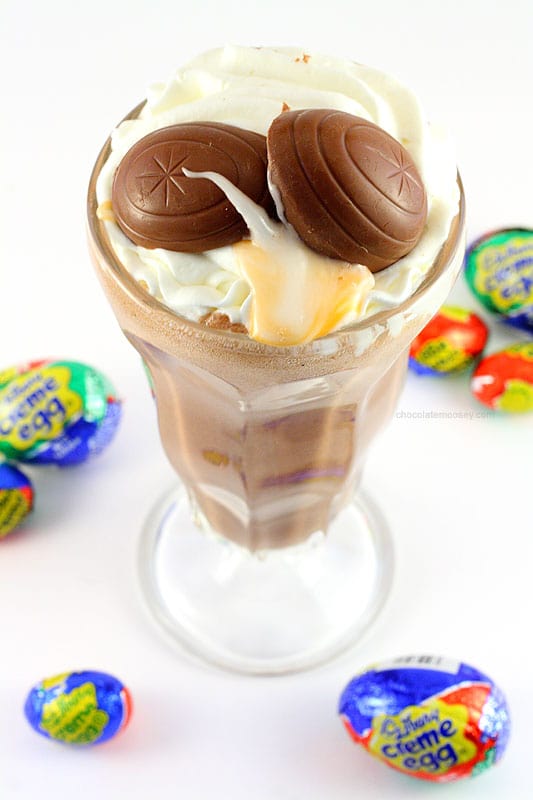 Move over, Halloween and Christmas. Easter has the real candy.
Cadbury creme eggs
, jelly beans, peanut butter eggs, marshmallow peeps, Cadbury creme eggs, chocolate bunnies.
Did I mention Cadbury creme eggs? Because those are my favorite.
This year I squealed at the store because I found MINI creme eggs! Seriously, best idea ever (besides the eggs themselves of course)!
So how can I make the best candy ever even better? Make it a milkshake. A Cadbury Creme Egg Milkshake to be exact.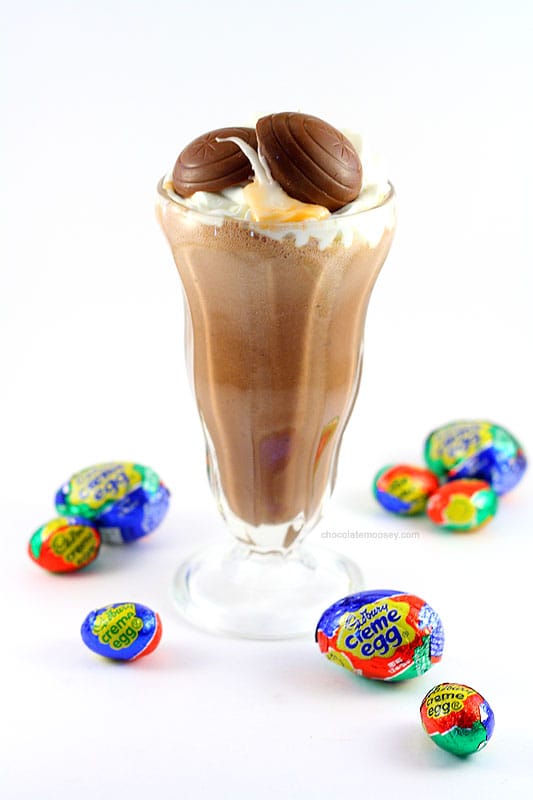 The idea for this Cadbury creme egg milkshake came to me when I was remembering my trip to Scotland. I visited around Easter time when we ate at McDonalds. There at the register was a sign for a Cadbury Creme Egg McFlurry.
Whoa wait! Vanilla ice cream with chunks of chocolate and the fondant cream mixed in?! Why don't we have this back in the US? (Seriously, why don't we, McDonalds? Huge money maker!)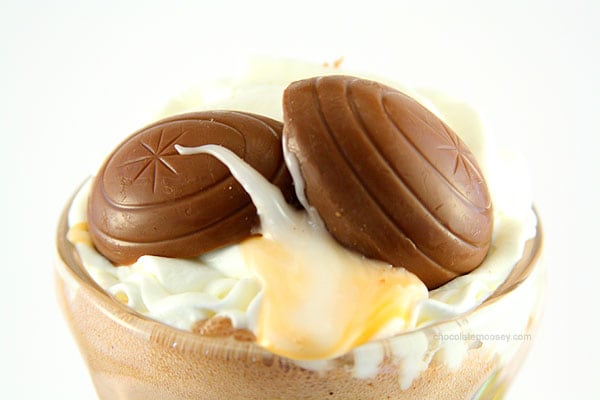 For those of you not familiar with the candy, a Cadbury creme egg is a chocolate egg with fondant cream inside.
What's really cool is the middle is white with yellow in the middle to represent an egg and its yolk. However, the cream is very sweet, so you either love it or hate it.
Since an egg is chocolate and cream, I decided to use chocolate ice cream for the base instead of the vanilla used in McFlurries.
I actually made my own fondant cream, thanks to these cream egg brownie recipe.
Pretty much it's just corn syrup and powdered sugar. I added some yellow food coloring, but next time I wouldn't bother since you can't see it in the milkshake anyway.
Do you know how hard it is to take action shots when you live alone? In one hand, I was adding the cream. In the other, I was auto focusing and shooting. I did manage to get one semi-decent shot.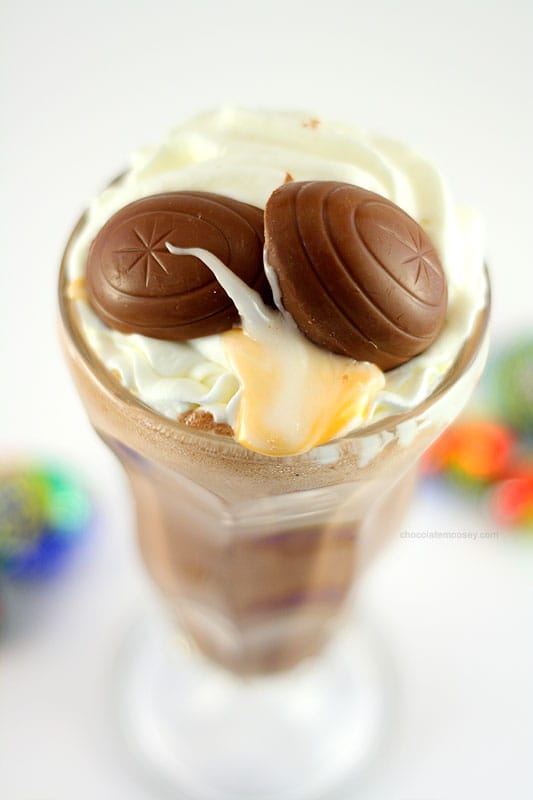 Cadbury Creme Egg Milkshake
This recipe makes one tall milkshake or two small milkshakes and can easily be doubled or even tripled to serve a crowd.
Ingredients
2 tablespoons corn syrup
1 tablespoon unsalted butter, softened
1/4 teaspoon vanilla extract
Pinch of salt
3/4 cup powdered sugar
1 cup chocolate ice cream
1/2 cup milk
One Cadbury creme egg
Whipped Cream
1/4 cup heavy whipping cream
2 tablespoons powdered sugar
1/2 teaspoon vanilla extract
Instructions
In a mixing bowl, beat together the corn syrup and butter until smooth. Beat in vanilla, salt, and powdered sugar.
In a blender, add the ice cream, milk, and fondant cream (the corn syrup mixture). Blend until smooth. Pour into a glass.
For the whipped cream: Beat the whipping cream for a few minutes or until it starts to thicken. Slowly add in the powdered sugar then the vanilla. Beat until stiff peaks form. Pipe on top of milkshake. Crack open the Cadbury creme egg and garnish on top.
More Recipes Using Cadbury Creme Eggs