Love Shamrock Shakes (aka green peppermint milkshakes) from McDonald's but tired of buying them? Save money by making this copycat shamrock shake recipe at home! For adults, top it with Irish cream whipped cream. Make these milkshakes for a last minute St. Patrick's Day treat or make them all year round.

Photos and recipe updated 2/17/2015
I very rarely eat at McDonald's, not because I don't like the food (I enjoy the burgers very much actually), but because of how unhealthy it is. I'm no health nut, but the less I eat of it, the better I feel. Well that theory goes completely out the window for two months out of the year when Shamrock Shakes are back. Seriously I think I've had about four this season (ok maybe five). If you aren't familiar with them, they are mint milkshakes (think mint chocolate chip but without the chocolate chip). In case you aren't aware of how McDonald's food is prepared, the shakes are made with this powdered mixture added to whatever they call "ice cream". Total yum right? I'm a huge believer in making things from scratch, so why don't I make my own Shamrock Shakes (seriously, why didn't I do this earlier)? Four ingredients, one which is completely optional if you are against food coloring.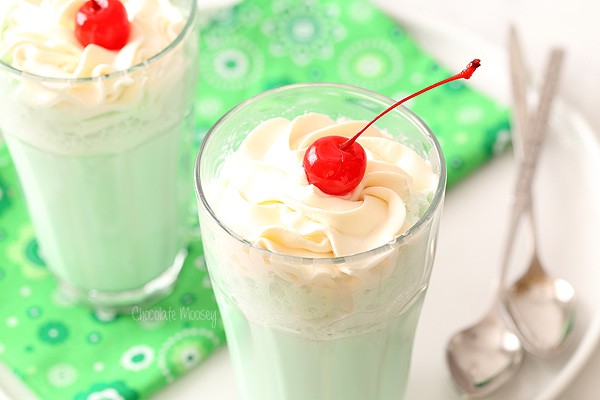 Shamrock Shakes are made with four ingredients – vanilla ice cream, milk, peppermint extract, and green food coloring (which you can leave out if you aren't going for presentation). If you don't have peppermint extract, you can always buy mint chocolate chip ice cream instead. The ratio of ice cream to milk is 2:1, so you can easily double or half this recipe. When I said I made these homemade, I went all out with
homemade vanilla bean ice cream
. Yes, you could go out and buy a pint, but I had the milk, cream, and vanilla beans, so I didn't want to spend more money than I had to. And unless you buy the good quality brands of ice cream, homemade vanilla tastes 100000x better because it actually tastes like vanilla. Those soft serve vanilla cones you buy as a treat? Definitely not vanilla. I'm not a nutritionist by any means, but I like to believe these shakes are better for you since you know what you're eating. Who knows what chemicals are in that funky powdered mix?
Update 2/17/15: Now that I'm older and a little more pressed for time, feel free to use good quality vanilla bean ice cream and not worry about making your own.
A milkshake isn't complete without some whipped cream on top! But this isn't just whipped cream. It's Irish cream whipped cream :D Heavy cream, powdered sugar, and Irish cream. Three ingredients and only a few minutes to whip up. Whipped cream doesn't sit well, so if you do have some leftover, it'll lose its stability. No worries though – just rebeat it until it holds stiff peaks again. If you don't want any alcohol, just leave it out and use vanilla extract. It'll still make a nice whipped cream.
If you're looking for a last-minute St. Patrick's Day treat, these milkshakes take very little time to throw together. Mint chocolate chip is one of my favorite ice creams, so I'll be making these babies all year round.
Items You May Need (affiliate links):

Copycat McDonald's Shamrock Shakes
Ingredients
For the milkshakes:
2 cups good-quality vanilla bean ice cream (roughly 12 scoops)
1 cup milk
1/2 teaspoon peppermint extract
Green food coloring (optional)
For the whipped cream:
1/2 cup heavy whipping cream
1/4 cup powdered sugar
1 teaspoon vanilla extract or 1 tablespoon Irish cream liqueur
2 maraschino cherries
Instructions
For the milkshake:
Put the ice cream, milk, and peppermint extract in a blender and blend for a few minutes until smooth. Add the food coloring until you reach the desired shade of green (I used about 8 drops). If you want your milkshakes a little thinner, add more milk. Divide between two glasses.
For the whipped cream:
In a cold large bowl, beat the cream until it starts to thicken. Slowly beat in the powdered sugar then beat in the vanilla or Irish cream. Whip until stiff peaks are formed (when you pull the beaters straight up, it should make little peaks that won't fall over). Top the milkshake with the whipped cream and cherries.
More Ice Cream Recipes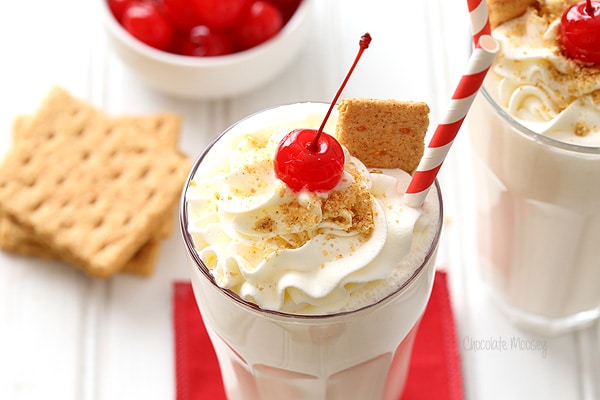 Cheesecake Milkshakes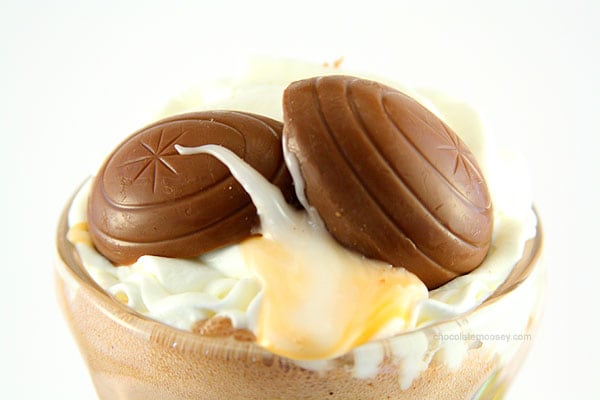 Cadbury Creme Egg Milkshakes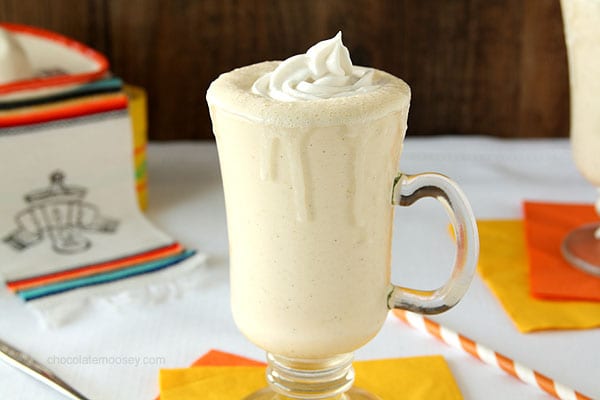 Dulce de Leche Milkshakes with Coconut Milk Whipped Cream