These small batch Chocolate Gingerbread Cupcakes with homemade cream cheese frosting makes a half dozen cupcakes. Ideal for when you want a small Christmas dessert without too many leftovers.
You can't let Christmas pass by without baking something chocolate and gingerbread! Pairing the two flavors together the holidays is one of my favorite combinations because they complement each other. Although gingerbread is delicious on its own, chocolate makes it that much better. I've been baking these Chocolate Gingerbread Cupcakes with homemade cream cheese since late 2010. However, the original recipe made 12 cupcakes. Although that's the perfect amount to share with friends and coworkers, sometimes you don't want to have many cupcakes leftover. Or maybe you only want to give a half dozen cupcakes as a thoughtful holiday gift. Whatever the reason may be, you can make six cupcakes as written or double the recipe for a party.
Gingerbread
is made up of several flavors – ginger (duh), cinnamon, nutmeg, clove, and molasses. I consume an insane amount of gingerbread inspired foods between December 1 – 31. For the longest time, I thought gingerbread included chocolate, but it doesn't by default. Adding cocoa powder and chocolate chips to the batter makes these gingerbread cupcakes a little extra special.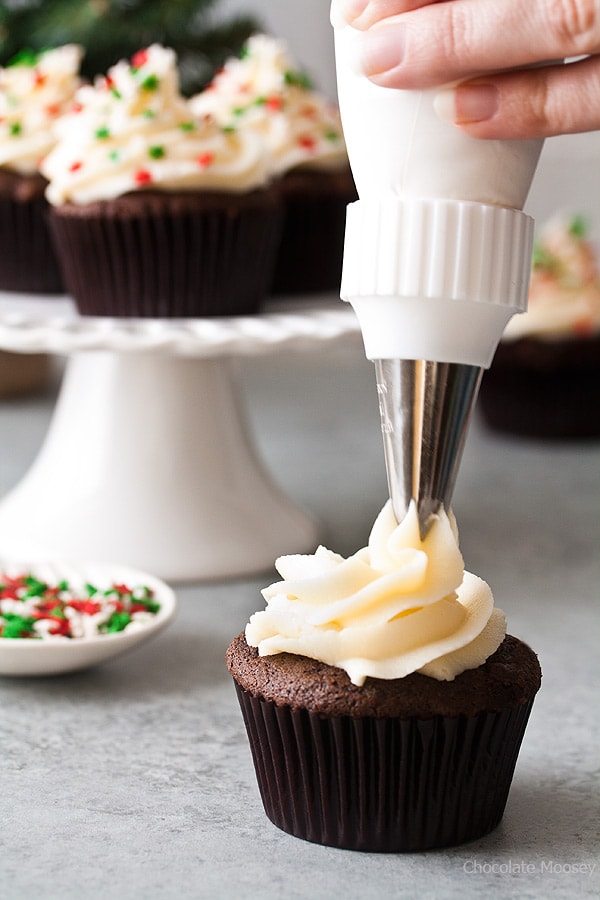 I didn't want to make the cupcakes too chocolatey, so I piped cream cheese frosting on top. Plus it adds a nice color contrast for fun Christmas sprinkles. I ran out of gingerbread men sprinkles, so I used my red and green stars. It's kinda funny in this shot I took they look like shooting stars when falling.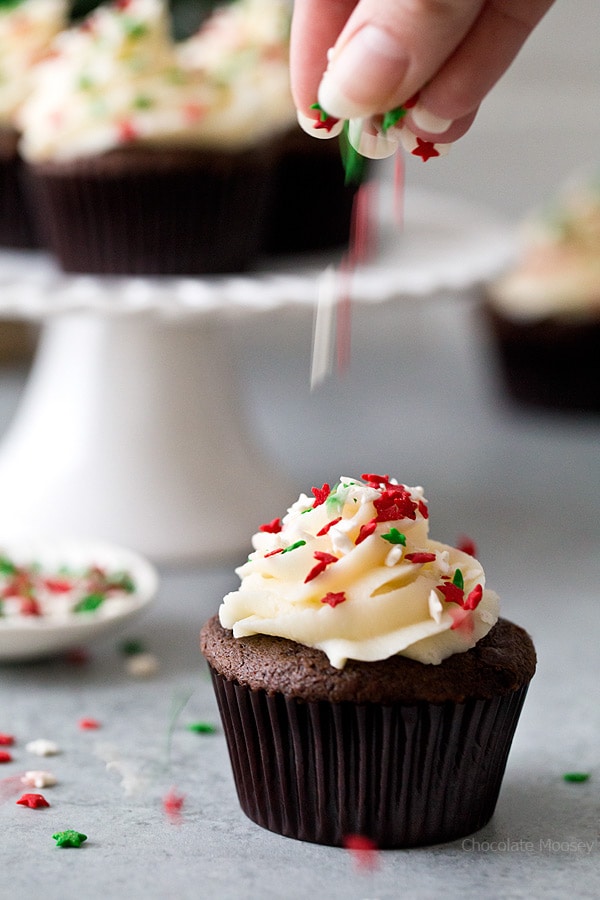 I know it's tradition to leave out a plate of cookies for Santa, but I'm willing to bet he wouldn't mind a plate of these cupcakes either. Glass of milk is necessary (although if you're like me who hates drinking milk as is, turn that milk into hot chocolate. Much better).
Looking for more chocolate gingerbread recipes? I highly recommend making
chocolate gingersnap cookies
and
chocolate gingerbread baked doughnuts
.
Items You May Need (affiliate links):
Yields 6 cupcakes
Small Batch Chocolate Gingerbread Cupcakes
30 minPrep Time
20 minCook Time
50 minTotal Time
Ingredients
1/2 cup all-purpose flour
1/4 cup unsweetened cocoa powder
1 teaspoon ground ginger
1/2 teaspoon ground cinnamon
1/4 teaspoon baking soda
1/4 teaspoon salt
1/8 teaspoon ground nutmeg
1/8 teaspoon ground clove
1/2 cup granulated sugar
1/4 cup (2 ounces or 4 tablespoons) unsalted butter, softened
2 tablespoons molasses
1 egg
1/2 teaspoon vanilla
1/4 cup whole milk
1/2 cup semisweet chocolate chips

Cream Cheese Frosting

2 ounces full-fat cream cheese, softened
1/4 cup (2 ounces or 4 tablespoons) unsalted butter, softened
Pinch of salt
1 cup powdered sugar, sifted
1/4 teaspoon vanilla extract
Sprinkles
Instructions
Preheat oven to 350F. Line a muffin pan with 6 cupcake liners.
In a small bowl, whisk together flour, cocoa, ginger, cinnamon, baking soda, salt, nutmeg, and clove.
In a large mixing bowl, beat together the sugar and butter until smooth and creamy, about 2-3 minutes. Beat in the molasses, egg, and vanilla. Gradually beat in the flour mixture alternately with the milk, adding the flour in 3 additions and the milk in 2 additions (begin and end with dry ingredients). Stir in chocolate chips.
Scoop batter into the paper liners. Bake 20-22 minutes or until a toothpick inserted in the center comes out clean (there may be some chocolate from the chocolate chips. It shouldn't be wet batter). Cool for 10 minutes then remove to cooling rack.
For the frosting: In a large mixing bowl, beat together cream cheese, butter, and salt until smooth and creamy, about 2-3 minutes. Gradually beat in sugar, 1/2 cup at a time, then beat in vanilla. Increase speed to medium-high and beat until light and fluffy, about 2-3 minutes. Transfer to piping bag and pipe on cooled cupcakes. Decorate with sprinkles, if desired.
7.8.1.1
3013
https://www.chocolatemoosey.com/2011/12/22/chocolate-gingerbread-cupcakes-2/
Source: Heavily adapted from 125 Cupcakes by Julie Hasson
Post updated 12/16/16