Soul-warming baked potato soup with crispy bacon that is easy to prepare when you don't have the time (or energy) to cook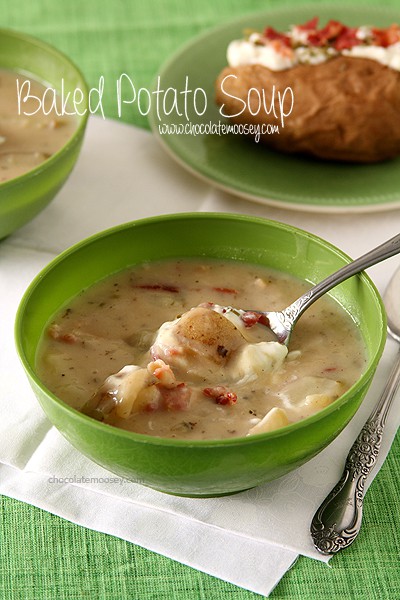 Updated 8/24/13 with new photos
I knew after waking up for work this past week, I was going to eat soup for dinner because I've been blowing my nose and sneezing for a few days. What really surprised me was the energy I had when I got home from work. Usually when I felt like this, I would make some ramen and call it a night. However, I decided to take advantage of it. My first plan was kohlrabi soup. However, my kohlrabi was moldy!! Blahhhh. Almost grabbed the ramen, but then the bacon stopped me. Bacon and potatoes. How time consuming would baked potato soup be? I looked up some recipes real quick online. Most call for an already-baked potato. Nah, don't have time for that. What if I just cooked the potatoes right in the soup?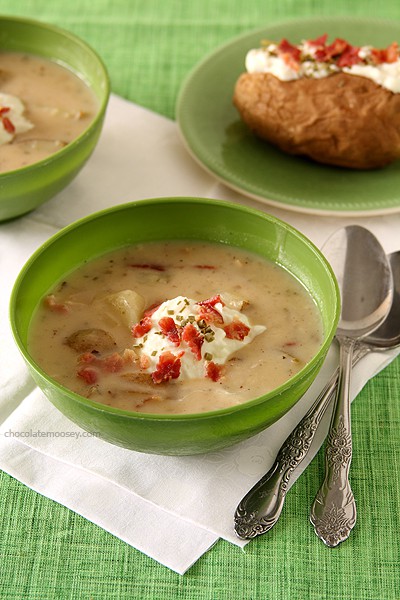 Normally, I peel my potatoes because by the time I use them, eyes are growing everywhere. Since these were still fresh, I left the skins on. I didn't cook the bacon until crispy, mainly because I LOVE when it's still slightly chewy.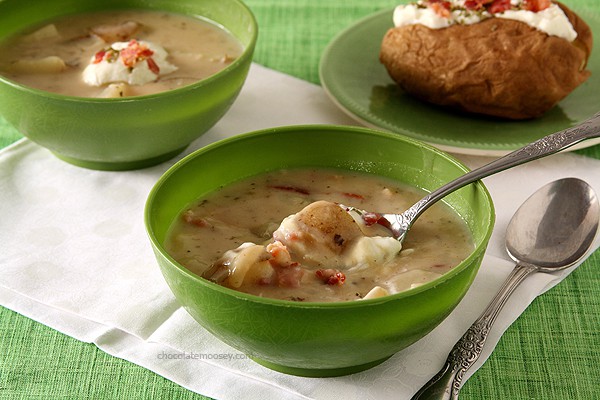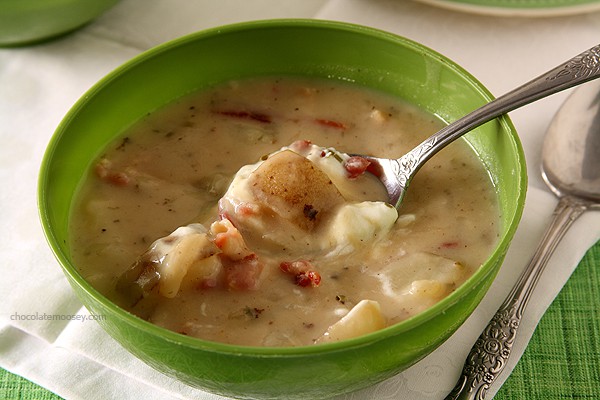 Original photos from 2011:
Baked Potato Soup
The potatoes cook directly in the soup so no need to cook them ahead of time.
Ingredients
3 strips bacon
1 small onion, chopped
2 garlic cloves, minced
3 Tbsp flour
1 tsp dried chives
Salt and pepper
3 cups chicken broth
2 cups baking potatoes, cubed (peeling optional)
1/2 cup milk or cream
Chives for garnish (fresh or dried)
Instructions
In a large pot, sauté bacon until crisp. Remove the bacon and place on a plate lined with a paper towel; pat off as much grease as you can. When cool enough to handle, crumble bacon. Leave the bacon drippings in the pot.
Sauté the onion in the drippings for a few minutes then sauté the garlic for another minute. Add flour, chives, salt, and pepper; mix well.
Gradually add the broth and scrape up the brown bits (keep them – they add flavor). Bring to a boil; boil and stir for 2 minutes (broth should thicken).
Add potatoes. Cover and boil for 15-20 minutes. Stir every few minutes because the potatoes may stick to the bottom. When potatoes are done, add milk or cream; heat but do not boil. Stir in crumbled bacon then garnish with chives on top.
If you enjoyed this Baked Potato Soup, you may also enjoy these recipes:
From me: