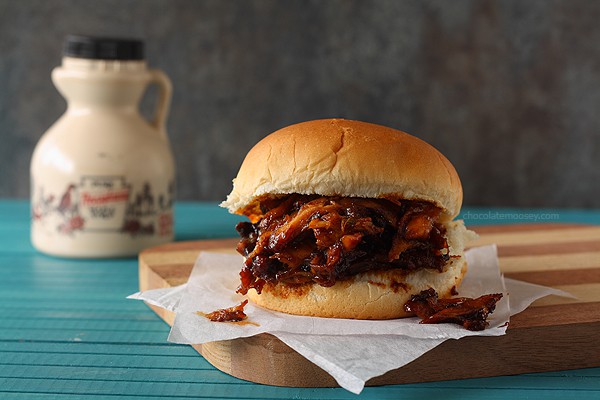 I don't trust slow cookers. Not that I don't trust them to do their work. I don't trust leaving the house with a slow cooker on all day. Call me cautious. Call me paranoid. I just don't want to have to call the fire dept while I'm at work. I don't own a slow cooker. Instead, I have this
multi-cooker/deep fryer/steamer/electric pot thing
. I can pretty much cook whatever I want. I got the brilliant idea of using it as a slow cooker to make these Maple BBQ Pulled Chicken Sandwiches. I can control the temp from 200F-350F (or was it 400F?). I decided one lazy Sunday afternoon, I would throw everything into the pot and cook on 200F. It worked, except instead of taking 6+ hours, it only took 2, so dinner was ready super early. Since the multi-cooker acts like another burner on the stove, cook this in a large stock pot or dutch oven.
Updated 6/24/13: Since I make these sandwiches often, I decided to reshoot the photos. I also adjusted the recipe below to reflect cooking in a Dutch oven on the stove, in case you don't have the multi-cooker like I do. It's pretty much just like an extra burner on the stove.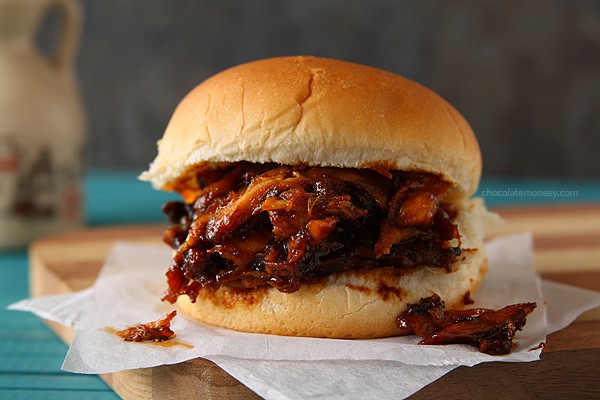 I've made pulled chicken at least three times now, once for my family who visited and twice for myself. I take the leftovers to work all week. Great on buns, in tortillas, and in spinach salads. I used McCormick's roasted spices and fresh jalapenos from my garden.

Original Photo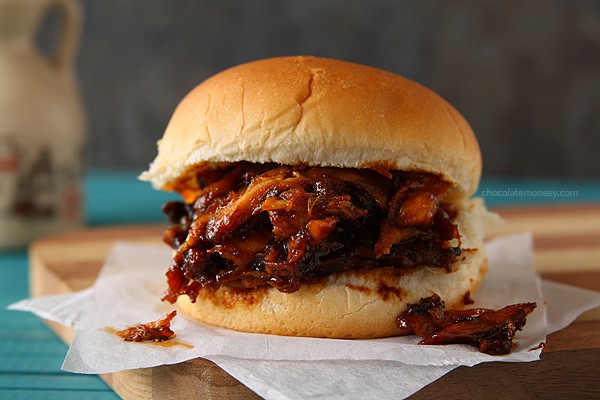 Ingredients
2 tablespoons olive oil
1 small onion, chopped
4 garlic cloves, minced
3 jalapeno peppers, chopped
1/4 cup tomato paste
2 tablespoons oregano
1 1/2 tablespoons smoked paprika
1 tablespoon chili powder
2 teaspoons cumin
1 teaspoon ground ginger
1 teaspoon sea salt
2 tablespoons Dijon mustard
1/3 cup packed brown sugar
1 tablespoon worcestershire sauce
2 teaspoons fish sauce or soy sauce
3/4 cup maple syrup
1/2 cup red wine or apple cider vinegar
1/4 cup water
3 chicken quarters, thawed and patted dry
8 hamburger buns
Instructions
In a large Dutch oven on the stove, heat the oil. Cook the onions, garlic, and jalapenos until the onions are brown. Stir in the tomato paste, oregano, paprika, chili powder, cumin, ginger, salt, mustard, brown sugar, worcestershire sauce, fish or soy sauce, maple syrup, vinegar, and water until smooth. Bring to a boil.
Meanwhile, remove the skin and fat from the chicken. When the sauce is boiling, add the chicken, making sure the pieces are covered in sauce and not overlapping. Reduce the heat to low, cover, and cook for 1-2 hours or until the chicken is cooked to 165F degrees and falling off the bone. Flip the chicken halfway through and keep covered in sauce.
When cooked, turn off the heat and remove chicken from the sauce. Take a slotted spoon and go through the sauce, making sure no bones were left behind. Once the chicken is cool enough to handle, shred the chicken and place back into the sauce. It should still be hot at this point, but turn the heat back on if needed. Serve on buns.
Notes
© Chocolate Moosey. All images and content are copyright protected. Please do not use my images without prior permission. If you want to republish a recipe, please rewrite it in your own words or link back to the post for the recipe.
7.6.3
2987
https://www.chocolatemoosey.com/2010/11/24/maple-bbq-pulled-chicken/
Source: Adapted from
Choosy Beggars
—-
If you liked Maple BBQ Pulled Chicken Sandwiches, then you may also like:
From me:

Disclosure: There is an Amazon affiliate link in this post.