Easy garlic mashed potatoes made with a special garlic trick and lots of milk. Creamy enough to not need gravy!
Updated on 11/18/12
I'm not a big fan of side dishes. I don't mind eating them; it's just the time it takes to make them in addition to the main course. However, if I am cooking for my parents and brother, I have to make a side or there just won't be enough food. One easy side dish I make is my Creamy Garlic Mashed Potatoes. I'm not talking about a sprinkling of garlic powder. You actually boil a few cloves of garlic with the potatoes. Crazy I know, but it works for garlic lovers like me! And if you add enough milk like I do, there won't be any need for gravy.
Original entry written 11/02/08:
I never realized this before until last Monday. It was the second day of me being sick, and I'm starving. Yet, I didn't feel like eating. So I'm laying on my bed, watching my tape of various Food Network shows I have taped. Then all of a sudden, I decided to make mashed potatoes two hours before work. I checked my potatoes. Two were rotten, two were not. Just to be safe, I peeled the non-rotten potatoes.
Anyway, what I never realized was I had never made mashed potatoes before. My friend asked, never with your parents growing up? Nope, they made those packets where you add water/milk/whatever it calls for. I don't even understand it myself. I do not get my food passion from my parents. They never influenced me (except maybe to flavor my meats more!) They are the reason why I hate meatloaf and pork chops. Our palettes are so different. I get my eat-anything gene from my dad, but even then I eat some things he doesn't like, like catfish or curry. My mom pretty much hates everything I cook because she doesn't like strong flavors. My brother is picky too, but not as bad as my mom. As far as baking, my mom bakes from a box. My dad does make pie or anchovy balls (yes, we love anchovies!), but he buys pre-made crust or pre-made crescent dough. So how did I learn to cook? I've taken three cooking classes throughout middle and high school, but even then most of the stuff I know I taught myself via recipes or blogs. I did grow up admiring pictures (mainly desserts) in my mom's magazines, like Family Circle or Woman's Day.
So back to my mashed potatoes. I looked up a recipe on Recipe Zaar. I found one that was so good, it doesn't need gravy. Good, because I had no clue on how to make gravy.
Updated on 11/18/12
I now know how to make gravy! I still don't know how to make traditional gravy, but I do know how to make gravy without meat drippings. Personally, these are creamy enough to not need anything else, but feel free add gravy.
Ingredients
1 pound russet potatoes, peeled and cubed (roughly 2 large potatoes)
3 garlic cloves, peeled and left whole
1/2 cup (4 ounces) unsalted butter, softened and cut into 8 tablespoons
1/2 - 1 cup milk (depends on how creamy you want it - I used 1 cup)
1/4 cup finely grated Parmesan cheese
1 teaspoon dried parsley (or 1 tablespoon fresh chopped parsley)
1/4 teaspoon salt
Instructions
Bring a large pot of water to a rolling boil. Once boiling, add potatoes and garlic cloves. Cook until soft but not overdone, roughly 12-15 minutes. Drain.
Add the potatoes and garlic to a large mixing bowl. Beat* until mashed together (don't overbeat or the texture may become gluey). Beat in the butter until smooth then slowly add in 1/2 cup milk. If they are not creamy enough, finish adding the remaining 1/2 cup milk. Beat in the cheese, parsley, and salt. Serve immediately.
Notes
*Alternatively, beat the potatoes by hand with a potato masher.
7.6.3
3056
https://www.chocolatemoosey.com/2008/11/02/creamy-garlic-mashed-potatoes/
Source: Adapted from
Food.com
More Holiday Side Dish Recipes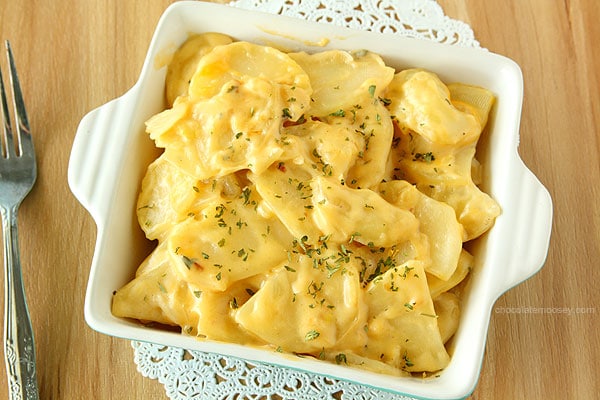 Easy Cheesy Stovetop Scalloped Potatoes