Chocolate thumbprint cookies with peanut butter in both the dough and the filling means double the love for chocolate peanut butter lovers.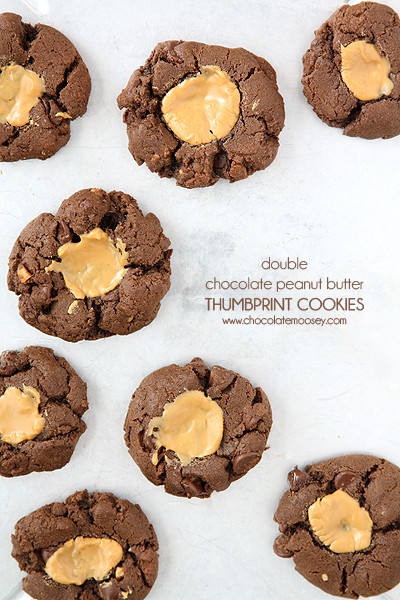 Photos updated 12/27/2013
Good news is I have access to my laptop again. Bad news is I'm using an attachable keyboard until I can get it fixed after finals week. At least I can type in my room and not worry about going all day without checking my email.
I visited my best friend last night in the hospital, and she is doing great. Even the surgeons were surprised she was sitting up and alert so soon. She was discharged early this afternoon and is resting at home. As a surprise, I baked her these Double Chocolate Peanut Butter Thumbprint Cookies. When she tried one, she said, "This one goes in the book" (meaning I am baking these again). Her mom wants to know why I'm not majoring in baking haha Trust me, I mess up too many times to bake as a professional. Plus it wouldn't be as much fun.
They are double chocolate because there is cocoa powder and chocolate chips. These cookies will spread, so try to keep them in a ball as much as possible when doing the thumbprint part. The dough requires a little bit of chilling, so make sure you leave enough time.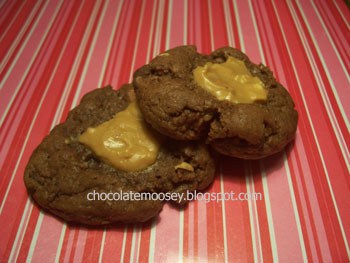 Original photo from 2008
Double Chocolate Peanut Butter Thumbprint Cookies
This recipe requires a little bit of planning ahead because you must chill the dough for at least 1 hour before baking.
Ingredients
1 1/2 cups all purpose flour
1/3 cup unsweetened cocoa powder
1 1/2 teaspoon baking powder
1/4 teaspoon salt
2 cups semisweet chocolate chips
1 cup granulated sugar
1 cup peanut butter (smooth or crunchy)
1/3 cup (5 1/3 tablespoons) unsalted butter, softened
1 1/2 teaspoon vanilla extract
2 eggs
Instructions
In a medium bowl, whisk together the flour, cocoa, baking powder, and salt.
In a microwave-safe bowl, melt 1 cup chocolate chips. Set aside.
In a large mixing bowl, beat together the sugar, 1/3 cup peanut butter, butter, and vanilla until creamy. Beat in the melted chocolate chips then beat in the eggs, one at a time. Gradually beat in the flour mixture. Stir in the remaining 1 cup chocolate chips. Cover and refrigerate for one hour or until firm.
Preheat the oven to 350F. Line two cookie sheets with parchment paper.
Roll the dough into 1 1/2-inch balls. Make a 1/2-inch dent with your thumb into each ball. Fill each with roughly 1/2 teaspoon peanut butter. Bake 10-12 minutes or until the edges are set. Cool on the sheets for 2 minutes before removing to a cooling rack.
Source:
Nestle's Best-Loved Cookies
(Amazon affiliate link)
—-
If you love these Double Chocolate Peanut Butter Thumbprint Cookies, then you may also love these recipes from me: